One of the world's leading law journals is available as an eBook. This issue of the Yale Law Journal (the fourth of Vol. 122, academic year 2012-2013) features new articles and essays on law and legal theory by internationally recognized scholars. Contents include:
• Article: Text, History, and Tradition: What the Seventh Amendment Can Teach Us About the Second, by Darrell A.H. Miller
• Essay: Can the President Appoint Principal Executive Officers Without a Senate Confirmation Vote?, by Matthew C. Stephenson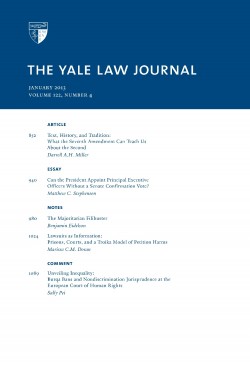 • Note: The Majoritarian Filibuster
• Note: Lawsuits as Information: Prisons, Courts, and a Troika Model of Petition Harms
• Comment: Unveiling Inequality: Burqa Bans and Nondiscrimination Jurisprudence at the European Court of Human Rights
Quality eBook formatting includes fully linked notes and an active Table of Contents (including linked Contents for individual articles and essays), as well as active URLs in footnotes and properly presented figures and graphics throughout. The Journal prices its issues affordably, and Quid Pro Books is the exclusive eBook publisher of the Yale Law Journal.
Available in eBook formats at leading sites:
Amazon for Kindle and Kindle apps. [See all our titles, in ebooks and print, at Amazon here.]
Barnes & Noble for Nook. [See all our titles, in ebooks and print, at B&N here.]
At Apple iBooks and iTunes bookstore, previewed online here.
At Google Play and Google Books.
And at Smashwords in ePUB format. Look for it, too, at Sony for the Sony Reader, Kobobooks, and Diesel e-books.
…
Cataloging:
ISBN 978-1-61027-893-5 (eBook)
ASIN B00BC5VUUQ (Kindle)
Page count:  259 pp.
Price: US $ .99