Jim Lewis' new book on antebellum Alabama joins the History & Heroes Series.
The name Alabama comes from the Choctaw word meaning "clearers of the thickets," inspiring the title of this fascinating new book. It examines Alabama's early history beginning with the era of European colonization and culminating with the state's controversial secession from the Union—after just 41 years as a state (recognizing, of course, that the actual history began long before this emigration, with Native American civilizations). In so doing, the author traces how Alabama emerged from a raw frontier of European settlement into a fully functioning state that provided much-needed order to its new citizens.
The book begins by exploring the colonial period during which three European powers—Spain, France, and Great Britain—continually vied for control of what was to become part of Alabama. Each culture, along with the Native American communities that lived throughout most of the region, contributed to the development of the emerging territory and left its enduring stamp. Later chapters examine Alabama's territorial period, the Creek War of 1813-1814, the Constitutional Convention of 1819 and statehood, the first years of state government in Cahaba, removal of the capital to Tuscaloosa, King Cotton and the ignominy of slavery, further relocation of the capital to Montgomery as secession loomed, and social and economic advances during the antebellum period that were interrupted and stunted by the tragedy of secession and war.
"Clearing the Thickets is narrative history in the grand old style—a spirited effort to make sense of the ideas, human beings, and events that c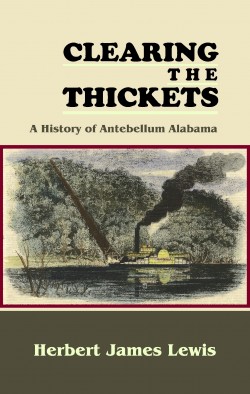 ame together to shape Alabama's first tumultuous decades. … Anyone interested in antebellum Alabama will be grateful for what Lewis has accomplished."
— Paul Pruitt, Jr., B.A., M.L.S., Ph.D.
Special Collection Librarian, Bounds Law Library, University of Alabama
Author of Taming Alabama: Lawyers and Reformers, 1804-1929 (2010)
"Lewis has carefully crafted a thoughtful, deliberate, and well-balanced history of antebellum Alabama. Perhaps not coincidentally, we are now in the decade of Alabama's bicentennial. In days such as these, his book should be on the shelf of anyone interested in Alabama's early history."
— James L. Noles, Jr., B.S., J.D.
Chairman, Alabama Humanities Foundation
AVAILABLE in new print editions. PAPERBACK is found at our QP eStore (fulfilled securely by Amazon), and at such leading booksellers as Amazon, Barnes & Noble, BooksAMillion, YBP Library Services, and Ingram catalog.
Library-quality HARDCOVER is found at Amazon, Barnes & Noble, BooksAMillion, Powell's, YBP, and Ingram.
Also available in eBook editions from leading sites:
At Apple iBooks and iTunes bookstores, as previewed online here.
And at Google Play, and Google Books here.
Also at Smashwords in ePUB format for various apps and devices; look for it, too, at Kobobooks and Diesel ebookstore.
…
REVIEWS of this book include this from The Historians' Manifesto blog, and a story on Jim's writing it is in the Shelby County Reporter. And Jim's latest book, released Nov. 2014, is Lost Capitals of Alabama, seen here.
…
CATALOGING:
ISBN 978-1-61027-165-3 (pbk)
ISBN 978-1-61027-169-1 (hbk)
ISBN 978-1-61027-166-0 (eBook)
Page count: 354 pp.
Price: $29.99 US (pbk), $51.99 US (hbk); $9.99 (ebook formats)