The Wilson Administration and Civil Liberties, 1917-1921, is a Digitally Remastered™ reprint of one of the classic works of legal and social history. Harry Scheiber's much-cited study of Woodrow Wilson and his cabinet explores the suppression of speech and print publication during an era of world war, the Red Scare, anti-foreign fervor, and unionism.
Wilson's notable achievements in social leadership and the progressive movement are questioned in light of his failure to protect civil liberties amidst the tide of war fever, nationalism, racism, and a protection of corporate interests. Worse, his own administration, through the Justice Department and the Postmaster General, took ruthless and often spurious actions to repress liberties, as shown by prodigious research and through useful tables of prosecutions and dispositions of anti-speech legal actions.
Toward the end of his administration, as he was rendered weak and distant by stroke, there is no doubt Wilson turned a blind eye to vicious governmental behavior. But Scheiber shows that long before, for whatever reasons or for the hyperfocus Wilson had on World War I and the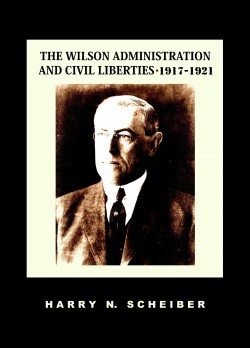 League of Nations, the blind eye and perhaps active involvement began.
A classic, fascinating study by one of the nation's most cited and honored legal historians, this book is accessible and clear to scholars and history fans everywhere and is not written exclusively, or even primarily, for lawyers or law students. It republishes in modern formats an important book first published in 1960 by Cornell University Press. Now it is part of the Legal History & Biography Series from Quid Pro Books.
Available in new paperback edition:  See it at Amazon.com, our QP eStore page for this book (fulfilled securely by Amazon), Barnes & Noble online, YBP Library Services, and Ingram.
Also available in quality eBook editions:
Amazon for Kindle.
Barnes & Noble for Nook.
At Apple iBooks and iTunes bookstores.
At Google Play for Nexus and similar devices.
Also downloadble  in ePUB format at Smashwords. This book can also be found at such ebook sites as Diesel e-books and Kobobooks in ePUB formats.
…
CATALOGING:
ISBN 978-1-61027-176-9 (pbk.)
ISBN 978-1-61027-175-2 (eBook)
ASIN B00BH4L5RA (Kindle)