Although the Constitution of the United States states that there shall be no laws that either establish or prohibit religion, the application of the Religion Clauses throughout United States history has been fraught with conflict and ambiguity. In this classic book, a leading constitutional scholar (and former Dean of law at Berkeley) proposed a set of guidelines meant to provide for the consistent application of the First Amendment's Religion Clauses.
Jesse Choper's thoughtful and pragmatic guidelines are designed to provide maximum protection for religious freedom without granting anyone an advantage, inflicting a disadvantage, or causing an unfair burden. Although Choper does not call for the wholesale overturning of judicial precedents or established social practices, the standards he has proposed would result in significant—and controversial—modifications to existing doctrines and customs. Choper argues, for instance, that while vocal prayer and Bible reading in public schools should continue to be prohibited, we can and should allow for silent prayer and objective courses in creation science. His standards would also, among other things, eliminate the tax exemption on property used exclusively for religious purposes while allowing parochial schools to receive public funds for the non-religious component of their education.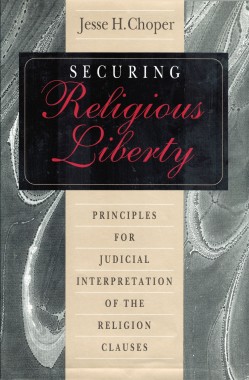 A classic, fascinating study written by one of the nation's most cited and honored constitutional scholars, a senior professor of law at Berkeley, this book is accessible and clear to many readers everywhere and is not written exclusively for, or understandable by, lawyers or law students. It republishes in modern formats an important book first published in 1995 by the University of Chicago Press. New ebooks contain linked notes, active Contents, and even a linked Index and Table of Cases, using detailed pagination from the print edition to facilitate continuity of referencing and to make navigation easy within the book.
"Securing Religious Liberty remains one of the most clear, concise, comprehensive, and provocative accounts of the meaning of the First Amendment's Religion Clauses. A must read for anyone interested in our enduring battles between church and state."
—Jay Wexler, Professor of Law, Boston University
Author of Holy Hullabaloos: A Road Trip to the Battlegrounds of the Church/State Wars (2009)
Securing Religious Liberty is available in quality eBook editions:
Amazon for Kindle and Kindle apps for many devices.
Barnes & Noble for Nook and Nook apps.
At Apple iBooks and iTunes bookstores, direct on iPad and iPhone.
And at Google Play (look for it in app on Nexus and similar devices).
Also found in ePUB format at Smashwords … and at Diesel e-books and Kobobooks.
…
ABOUT THE AUTHOR:
Jesse H. Choper is the Earl Warren Professor of Public Law at the University of California at Berkeley. He served as law clerk to Chief Justice Earl Warren of the U.S. Supreme Court following graduation from the University of Pennsylvania Law School. He taught at the Wharton School of the University of Pennsylvania from 1957 to 1960, and at the University of Minnesota Law School from 1961 to 1965. He joined the Berkeley law faculty in 1965 and was the dean from 1982-1992. He has been a visiting professor at Harvard, Fordham, University of Milan, Free University in Amsterdam, Autonoma University in Barcelona, University of New South Wales, University of Lucerne, and Catholic University of Portugal.
From 1979 to 1998, Choper was one of the three major lecturers at U.S. Law Week's Annual Constitutional Law Conference in Washington, D.C. He has delivered 20 titled lectures at major universities throughout the country, including the Cooley Lectures at Michigan, the Stevens Lecture at Cornell, the Baum Lecture at Illinois, and the Lockhart Lecture at Minnesota. He has served on the executive committee of the Association of American Law Schools, and on the executive council of the American Academy of Arts and Sciences (of which he has been vice president for the last ten years). He was national president of the Order of the Coif and is a member of the American Law Institute. In 1998 he received the UC Berkeley Distinguished Teaching Award and the Rutter Award for Teaching Distinction in 2006. In 2005 the Boalt Hall Alumni Association presented Choper with the Faculty Lifetime Achievement Award and the University of Pennsylvania Law School gave him the James Wilson Award, its highest award for alumni.
Choper's other major publications include the books Judicial Review and the National Political Process, which received the Order of the Coif Triennial Book Award in 1982 and is forthcoming from Quid Pro; The Supreme Court and Its Justices; the tenth edition of his Constitutional Law casebook; and the seventh edition of his Corporations casebook.
CATALOGING:
Securing Religious Liberty: Principles for Judicial Interpretation of the Religion Clauses
ISBN 978-1-61027-172-1 (eBook)
ASIN B00BNZHOFK (Kindle)
$7.99 US
212 pp.