The Harvard Law Review is offered in a digital edition, featuring active Contents, linked notes, and proper ebook formatting. The contents of Issue 5 include:
• Article, "Multistage Adjudication," by Louis Kaplow
• Book Review, "Humanizing the Criminal Justice Machine: Re-Animated Justice or Frankenstein's Monster?," by Nicola Lacey
• Note, "Importing a Trade or Business Limitation into § 2036: Toward a Regulatory Solution to FLP-Driven Transfer Tax Avoidance"
• Note, "The Benefits of Unequal Protection"
• Note, "Diagnostic Method Patents and Harms to Follow-On Innovation"
• Note, "Three Formulations of the Nexus Requirement in Reasonable Accommodations Law"
In addition, student research explores Recent Cases on the intersection of age discrimination claims and § 1983 claims, the First Amendment implications of restricting airline ads and of compelled speech in suicide advisories, whether transactions in unlisted securities are "domestic," whether employee misuse of computers violates the Computer Fraud and Abuse Act, and prudential standing in environmental cases. Finally, the issue includes a Recent Book essay and two book notes of Recent Publications.
The Harvard Law Review is a student-run organization whose primary purpose is to publish a journal of legal scholarship. The Review comes out monthly from November through June and has roughly 2000 pages per volume. The organization is formally independent of the Harvard Law School. Student editors make all editorial and organizational decisions. This issue of the Review is March 2013, the fifth issue of academic year 2012-2013 (Volume 126).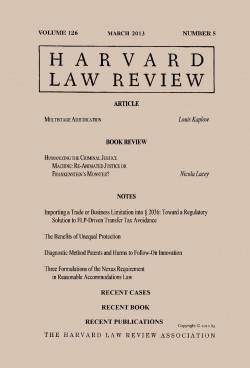 Quality eBook formatting includes fully linked notes and an active Table of Contents (including linked Contents for individual articles and essays), as well as active URLs in footnotes and properly presented figures and graphics throughout. Quid Pro Books is the exclusive eBook publisher of the Harvard Law Review. Issues back to Volume 124 are also available as eBooks.
Available in eBook formats at leading sites:
Amazon for Kindle and Kindle apps. [See all our titles, in ebooks and print, at Amazon here.]
Barnes & Noble for Nook. [See all our titles, in ebooks and print, at B&N here.]
At Google Play app; and more generally at Google Books.
At Apple iBooks and iTunes bookstore, direct on iPad and iPhone (previewed online).
And at Smashwords. Look for it also at Sony, Diesel, and Kobobooks ebookstores.
…
Cataloging:
ISBN 978-1-61027-894-2 (eBook)
ASIN B00BQZCK42 (Kindle)
Page count:  297 pp.
Price: US $ 3.99