Justice Joseph Story's famous and influential review of the origins, influences, and early interpretations of the Constitution is now presented in the author's own 1833 Abridged Edition—considered the most useful and readable version of this important work, written by the Supreme Court's youngest member. No other ebook version offers the accessible abridged form, and in proper digital format no less. The new hardcover and paperback use modern, legible font. Plus in print or digital, this edition adds an extensive 2013 introduction by Kermit Roosevelt III.
One of the United States' most influential legal scholars and jurists wrote his landmark treatise before the Civil War, describing federalism, states' history, freedoms, and constitutional structure. He abridged it into this usable book. Adding a new and informative Foreword by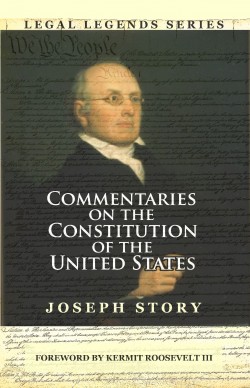 constitutional scholar Kermit Roosevelt III of the University of Pennsylvania Law School, the quality Quid Pro edition features active Contents, proper formatting, and embedded pagination from the original, for continuity of referencing and citation. Professor Roosevelt catalogs many instances in which the current Court has relied on this book to decide issues of gun rights, federalism, and privacy. In addition, he provides a fascinating biographical summary of Story and describes the origins of this monumental work, as well as the sway it has had on legal history since 1833.
Part of the Legal Legends Series from Quid Pro. The series also includes legendary works, in quality ebook and print formats, from Oliver Wendell Holmes, Louis Brandeis, Roscoe Pound, Benjamin Cardozo, Thomas Reed Powell, John Chipman Gray, Woodrow Wilson, and Karl Llewellyn. These editions are introduced and explained by today's recognized scholars in the field, and they exhibit a care in proofreading and presentation often lacking in modern republications of canonical work.
Available in PAPERBACK edition at such sites as Amazon.com, Barnes & Noble, BooksAMillion, Ingram, and YBP Library Services; and at our QP estore page, fulfilled efficiently and securely by Amazon.
Also available in library-quality HARDCOVER edition, sold at such sites as Amazon.com, Barnes & Noble, BooksAMillion, YBP Library Services, and Ingram catalog.
And available in leading eBook formats:
At Apple iBooks and iTunes bookstores (preview online here).
And at Google Play.
. . .
Cataloging:
ISBN 9781610271950 (mass pbk.)
ISBN 9781610278089 (trade pbk., 2016 printing)
ISBN 9781610271967 (hc.)
ISBN 9781610271868 (eBook)
ASIN B00BY6CHJ6 (Kindle)
Page count: 440 pp.; published May 25, 2013
Price: US $29.99 (pbk.) $58.99 (hc.)