New from the author of CONFLICT OF INTEREST and THE HOLDING COMPANY: Law professor David Crump's latest courtroom drama features Houston trial lawyer Robert Herrick, in a case that hits close to home. When his paralegal Brianna Edwards gets arrested for hiring a hit man, Herrick has to work the law and reality of murder for hire in the Lone Star state—in the toney city of Sugar Land, no less. Pitted against the toughest prosecutor around, who has marching orders to stamp out any threat of violent crime in the affluent community, Herrick will have to use all his courtroom wits and experience to make legal sense of the tangled law that Brianna faces.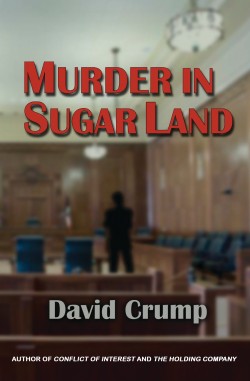 AVAILABLE in paperback at Amazon, our QP eStore (fulfilled by Amazon), Barnes & Noble, BooksAMillion, YBP Library Services, and other booksellers.
Also available in eBook editions:
Amazon for Kindle.
Barnes & Noble for Nook.
And at Apple iBooks and iTunes bookstore (as previewed online here).
Available in multiple digital formats from Smashwords, such as PDF, Sony, ePUB and rtf. And for the Kobo Reader from Smashwords and from Kobobooks, and for ePub readers at Diesel e-books.
Also at Google Play (for Nexus and similar devices), as with most of our titles. For example, Crump's earlier novels The Holding Company and Conflict of Interest are also now found at Google Play, as is his adaptation of The Aeneid.
…
Advance praise for this book:
"Absolutely superb! David Crump describes the reality of a trial better than anyone. After 30 years as a trial lawyer and 14 years as a trial judge, I have had the same experiences. And Crump nails it. This is a book you simply cannot put down."
—Judge R. Terence Ney
Past President, State Bar of Virginia
"David Crump knows his material and characters well! He has written yet another excellent legal thriller."
—David Beck
Past President, State Bar of Texas
"Crump steers his readers through our judicial system as only a practitioner and professor of law is able to do! This is a fascinating story crafted with characters who are so vivid and real that you are faced with the terrible conflict of not wanting to put it down, while realizing it will end too soon if you don't."
—Bill Balleza
News Anchor, NBC-TV Channel 2
"Each of David Crump's novels leaves me looking forward to the next. His characters are each so unusual, they are almost Faulkner-esque. I highly recommend this one!"
—T. Gerald Treece
Legal Commentator, CBS-TV Channel 11
"The story takes you behind the scenes and behind the bench. It's a fun courtroom drama in classic Crump style…."
—D. Hull Youngblood
Past Chair, Board of Directors, State Bar of Texas
"This is the most realistic courtroom novel you'll find today, so grab your seat at the defense table and watch the legal chess match unfold!"
—Gary Taylor
Pulitzer Prize Nominee Journalist; Author of true-crime bestseller Luggage by Kroger
…

CATALOGING:
ISBN 978-1-61027-182-0 (pbk.)
ISBN 978-1-61027-183-7 (ePub)
ASIN B00C08KGSQ (Kindle)