This first issue of 2013 features articles from internationally recognized scholars on immigration and emigration, including an extensive Symposium on immigration and its issues of policy, law, administrative process, and institutional design in the United States.
Topics include why "family" is special (Kerry Abrams), risks and rewards of economic migration (Anu Bradford), criminal deportees (Eleanor Marie Lawrence Brown), policing immigration (Adam Cox & Thomas Miles), detention reform (Alina Das), rights of undocumented aliens (John Eastman), free trade and free immigration (Richard Epstein), screening for solidarity in labor (Stephen Lee), temporary worker programs (Hiroshi Motomura), institutional structure of immigration law (Eric Posner), and international cooperation on migration (Alan Sykes).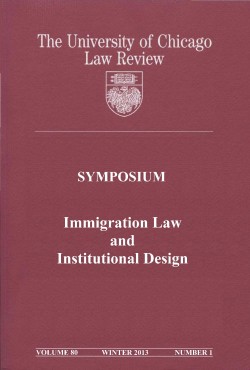 In addition, the issue includes new articles by Gerrit De Geest and Giuseppe Dari-Mattiaci on the rise of carrots and the decline of sticks, and by David Hoffman and Tess Wilkinson-Ryan on the psychology of contract precautions. A Review Essay by Mark Tushnet discusses Richard Epstein's book Design for Liberty; and a student Comment analyzes scope of review over agency interpretations by statutes when first advanced in litigation.
In addition to these contributions, the issue serves, in effect, as a new and extensive book on cutting-edge issues of immigration law and policy in the United States by renowned researchers in the field. It is presented in modern eBook format and features active Tables of Contents; linked footnotes and active URLs in notes; careful digital presentation; and legible tables and images.

The University of Chicago Law Review first appeared in 1933, thirty-one years after the Law School offered its first classes. This issue is first for the new year: Volume 80, Number 1 – Winter 2013.
Available in leading eBook formats:
Amazon for Kindle.
Barnes & Noble for Nook.
At Apple iBooks and iTunes bookstore (previewed online here).
At Google Play for Nexus and similar devices, and more generally at Google Books.
Also found in ePUB format at Smashwords. Look for it, too, at Sony for the Sony Reader, Kobobooks, and Diesel e-books.
…
CATALOGING:
ISBN 978-1-61027-896-6 (eBook)
ASIN B00C4KCG4W (Kindle)
Publisher: Quid Pro, LLC
Publication date: 3/31/2013
Page count: 513 pp.
Price: US $1.99