A classic resource in the modern study of the anthropology of law, the much-cited book Order and Dispute: An Introduction to Legal Anthropology is now widely available again in an updated and expanded edition. There are many societies that survive in a remarkably orderly fashion without the help of judges, law courts, and police. They are small in scale and have relatively simple technologies, lacking those centralized agencies which we associate with legal systems; yet early anthropologists did not hesitate to name "law," along with kinship, politics, and religion, as one of the facets of their subject. Simon Roberts–a senior professor of anthropology at the London School of Economics–contends, however, that legal theory has become too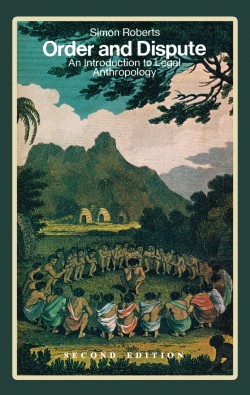 closely identified with our own arrangements in western societies to be of much help in cross-cultural studies of order. But conversely, by looking at the ways in which other societies keep order and solve disputes, he sheds valuable light on the contemporary debates about order in our own society, in a straightforward text which is accessible to both the general reader and anthropologist alike.
Now in its Second Edition with a new Foreword and Afterword by the author, this renowned introduction to the anthropology of law is part of the Classics of Law & Society Series from Quid Pro Books.
PAPERBACK AVAILABLE at the Quid Pro page for this book (fulfilled securely and quickly by Amazon), as well as such booksellers as Amazon.com, Barnes & Noble, BAM!, YBP Library Services, Baker & Taylor, and Ingram catalog.
NEW HARDBACK ALSO AVAILABLE (published in 2015), at such retailers as noted above, including YBP, Ingram, Barnes & Noble, BAM!, and Amazon.com.
AVAILABLE in quality eBook formats at leading sites:
Amazon for Kindle.  [And for UK Kindle readers at Amazon UK.]
At Apple iBooks and iTunes bookstore (as previewed online here).
And at Google Play app on Nexus and similar devices.
Also in multiple digital formats, including ePUB, Sony, PDF, and rtf, at Smashwords. Look for it also at Kobobooks, Oyster, Axis360, and similar ebook retailers.
…
Cataloging:
ISBN 978-1-61027-845-4 (hardcover, 2015); list price US $39.99; UK 31.39 Pounds
ISBN 978-1-61027-184-4 (paperback, 2013); list price: US $29.99
ISBN 978-1-61027-807-2 (trade paperback, 2016 printing); list price US $29.99

ISBN 978-1-61027-185-1 (eBook); list price: $9.99

ASIN B00CB7BWUW (Kindle); list price: $9.99

Page count: 200 pp.