The Harvard Law Review is offered in a digital edition, featuring active Contents, linked notes, and proper ebook formatting. The contents of Issue 6 include scholarly articles and student case notes, as well as as the extensive, annual survey of emerging Developments in the Law. This year's subject is immigration law and policy. Topics include legal representation of immigrants in removal proceedings, the applicability of the Fourth Amendment and its exclusionary rule, the application of DOMA to immigrant applicants, and the state-federal problem of immigration law and enforcement.
The issue also includes an article by Lee Anne Fennell on transaction costs, Coase, and "resource access costs," as well as a review essay by David Strauss on the "unwritten" Constitution and a new book by Akhil Reed Amar.
In addition, student contributions explore Recent Cases on First Amendment campaign financing law, the problem of gender discrimination for workplaces that harass putatively gay workers, administrative deference, personal jurisdiction, forfeiture of Confrontation Clause rights,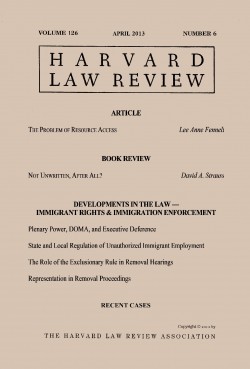 the Ex Post Facto Clause and Guantanamo, the Clean Air Act, and EEOC protection of transgender applicants.
Principal articles are written by internationally recognized legal scholars, and student-editors contribute substantial research in the form of Recent Case commentaries and surveys of recent developments in the law.
Available in leading eBook formats:
Amazon for Kindle.
Barnes & Noble for Nook.
At Google Play, for Nexus and similar devices and the Play app; and at Google Books.
At Apple iBooks and iTunes bookstore, as previewed online here.
And at Smashwords in ePUB format. Look for it, too, at Sony for the Sony Reader, Kobobooks, and Diesel e-books.
…
CATALOGING:
ISBN 978-1-61027-897-3 (eBook)
ASIN B00CBKB18C (Kindle)
Page count: 289 pp.