Work and Authority in Industry is a high quality, Digitally Remastered™ republication of one of the classic works of social history and industrial relations. Reinhard Bendix's foundational study of the rise of the capitalist class is now presented as an eBook.
This book has been assigned, quoted, and referenced thousands of times since its original publication. Berkeley sociologist Reinhard Bendix explores how the emerging class of entrepreneurs increasingly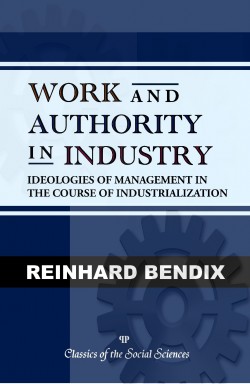 attempted to create and manage an industrial work force. His analysis is comparative and historical, and applies across widely varying societal structures, particularly the United States, England, Russia, and East Germany. First published in 1956 and updated in a 1963 paperback release (the version used in this unabridged reproduction, and in all later reprintings from various publishers even if they label it a "new edition"), Bendix's canonical work is now a quality eBook edition, part of the Classics of the Social Sciences Series from Quid Pro Books. It features linked notes, active and detailed Contents, all the original tables and images, and even two fully linked and paginated indices: an Author Index and a Subject Matter Index.
This edition's modern presentation and useful features—and the text's unassuming clarity and fascinating historical background, accessible to a general audience as well as scholars—make the new digital republication an affordable subject of general reading, scholarly research, and classroom assignment. It is relevant to the fields of social history and theory, European history, political science, industrial relations, and management studies. Such readers will find commonplace today an idea first seriously advanced and illustrated in this work: that modern human history has been influenced more by the acts and rhetoric of the capitalist class—and its leaders and appeals to ideologies—than by the behavior of the working class. The book further explores how group behavior by business leaders joined labor unionization in leading industrial practice over many cultures and economies.
"Bendix makes a major contribution to sociology in two of its fields which need such a contribution most—the sociology of knowledge and the sociology of work relations… sociological research of the first rank." —American Sociological Review
Available in quality eBook editions:
Amazon for Kindle.
Barnes & Noble for Nook.
And at Apple iBooks and iTunes bookstores.
…
CATALOGING:
ISBN 978-1-61027-187-5 (eBook)
ASIN B00CCYPZBG (Kindle)
Page count: 464 pp.