From her diaries and later recollections, Red Cross nurse Shirley Millard offered this account in 1936 of her tumultuous and gruesome 1918 near Soissons, France — treating friend and enemy alike in a French battlefield hospital jerryrigged into an old estate.  She reveals so much about the war and youth, and betrays even more unwittingly.  It then becomes riveting even on levels she never intended.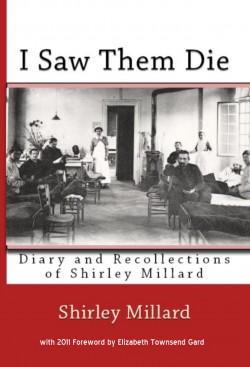 Ironies and twists abound, such as answering the question, "When are maggots good news?"  And when is a man a grateful ashtray?  She seems to be a survivor in all this, but not without costs and oddities that are revealed more to the reader than to the author herself.
This book is MASH before there was a M*A*S*H and should be a required supplement to more idealistic and self-aware writers like Erich Remarque.  Assuming Remarque's blunt descriptions are appropriate to an age group, this book is too.
Lost to the world for years except in rare bookshops, the personal account of a naif in France is reemerging in digital release now, and also in new paperback.
Includes an explanatory modern Foreword by law professor Elizabeth Townsend Gard, who studied narratives of this genre in her research for the Ph.D. in History from UCLA. She explores the larger literary tradition of WWI writers and especially the rediscovery of women writers and women in war. Includes photographs from the era. This book is interesting to a general audience but is also appropriate and eye-opening to Young Adults and for classroom use ages 13 and up. See review linked below for more on classroom uses.
Library-quality yet affordable HARDCOVER edition: See it at such booksellers as Amazon.com, Barnes & Noble, BooksAMillion, YBP Library Services, and Ingram Catalog.
PAPERBACK: Buy it at the Amazon general site, from our eStore with fulfillment by Amazon, at BooksAMillion, or at B&N. And at other leading retailers. Libraries (and others) may also order through YBP Library Services and the Ingram Catalog.
Also available in multiple eBook formats:
Amazon for Kindle.
Barnes & Noble for Nook.
Smashwords in multiple digital formats, online viewing, and simple PDF.
At Google Play app.
Available also at Apple iTunes and iBooks bookstores (see Preview online here), and Kobobooks.
Ask us about school adoptions, bulk and institutional sales, and review copies. Just email us at quidprolaw (at) g mail dot com, or use the Contact Us page. Note that in the H-Net Review for this book, the reviewer specifically concludes: "The language is clear and the book's short length makes it accessible for students. The defined dates, detailed events, and descriptions of hospital life also make this a valuable resource for scholars."
CATALOGING:
ISBN 9781610278423 (hardback); list price $23.99
ISBN 9781610270229 (ebook); list price $4.99
ISBN 9781610270236 (paperback); list price $18.99