The April 2013 issue of The Yale Law Journal (the 6th of Vol. 122, academic year 2012-2013) features new articles and essays on law, legal theory and policy by internationally recognized scholars.
Contents include an article analyzing rape-by-deception and the mythical idea of sexual autonomy, by Jed Rubenfeld; an essay on extortion and the principle of abuse of property right, by Larissa Katz; and a book review essay on the next generation of civil rights lawyers and the construction of racial identity, by Anthony Alfieri and Angela Onwuachi-Willig.
The issue also features extensive student research, in the form of Notes and Comments, on such cutting-edge subjects as mandatory arbitration and contract procedure; the concept of ride-through in bankruptcy law as an economic good; kidney allocation and the limits of age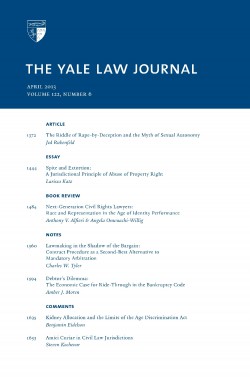 discrimination law; and how civil law jurisdictions treat the amicus curiae party and amici briefs.
Quality ebook formatting includes fully linked notes and an active Table of Contents (including linked Contents for individual articles and essays), as well as active URLs in notes.  Quid Pro Books is the exclusive ebook publisher of Yale Law Journal. Issues back to Volume 121 are also available as eBooks. Ebook editions of law reviews usually are available before the print edition is released, and offer other convenient features such as text-to-speech function and adjustable print size.
Available in ebook formats at all leading sites:
Amazon for Kindle.
Barnes & Noble for Nook.
At Apple iBooks and iTunes bookstore. Previewed online here.
At Google Play and Google Books.
And at Smashwords in ePUB format. Look for it, too, at Sony for the Sony Reader, Kobobooks, and Diesel e-books.
…
Cataloging:
ISBN 978-1-61027-899-7 (eBook)
ASIN B00CK055YY (Kindle)
Page count:  304 pp.
Price: US 99 cents