International Human Rights: Universalism Versus Relativism is a high-quality, Digitally Remastered™ republication of one of the foundational works in human rights. Alison Dundes Renteln's recognized study of the values debate is now presented as a new paperback and an eBook.
Are human rights universal? Universalists and cultural relativists have long debated this question. Renteln reconciles the two positions and argues that, within the vast array of cultural practices and values, it is possible to create structural equivalents to rights in all societies. She poses that empirical cross-cultural research can reveal universal human rights standards, then demonstrates it through an analysis of the concept of measured retribution.
The book is a classic socio-legal study of the incompatibility and possible reconciliation of competing views of culture relativism and absolute fundamental human rights. It features prodigious research and insight that has often been cited by academics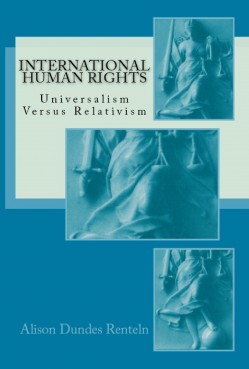 and human rights lawyers and activists over two decades–yet it is accessible and interesting to a general audience, as well as scholars and human rights activists. Its cultural and historical examples are fascinating. Originally published in the Sage Publications' Frontiers of Anthropology Series, the book is now available in Quid Pro's Classics of the Social Sciences Series (though as a recognized pathbreaking work in bringing a social science approach to a legal problem, it is fairly a Classic of Law and Society as well).
This republication adds a new preface by the author and a new foreword by Professor Tom Zwart of Utrecht University. As Zwart notes, "The book caused quite a splash when it was first published, because its author asked many important questions which had not been raised before. She challenged some of the normativist assumptions which characterized the field…. All those involved in human rights research and practice owe a debt of gratitude to Renteln for writing this pioneering book…. Fortunately, this wonderful book, through its re-issue, will remain a very important reference text for decades to come, to be enjoyed by the next generations of students of human rights."
The new ebook edition features proper digital formatting, active Contents, linked notes, and even embedded pagination from the print editions … for ready referencing and classroom assignment. Updated UN organizational charts are included in a new appendix.
Available in new paperback edition from leading booksellers, such as Amazon, Barnes & Noble, our QP eStore page for the book (fulfilled securely by Amazon), BooksAMillion, YBP Library Services, and Ingram.
Also available in quality eBook editions:
Amazon for Kindle.
Barnes & Noble for Nook.
At Apple iBooks and iTunes bookstores, direct on iPad and iPhone.
In multiple formats including ePub, Sony file, and PDF at Smashwords. Look for it, too, at Diesel ebooks and Kobobooks.
Also available at Google Play, for Nexus devices and the Play app.
…
CATALOGING:
ISBN 978-1-61027-160-8 (paperback)
ISBN 978-1-61027-159-2 (eBook)
Page count: 206 pp.
List price: US $29.99 (pbk.)