The Harvard Law Review is offered in a digital edition, featuring active Contents, linked notes, active URLs in notes, and proper ebook formatting. The contents of Issue 7 include scholarly articles and student case notes, as well as an extensive Symposium on Privacy and Technology. Subjects include:
Article, "Agency Self-Insulation Under Presidential Review," by Jennifer Nou
Commentary, "The Office of Information and Regulatory Affairs: Myths and Realities," by Cass R. Sunstein
SYMPOSIU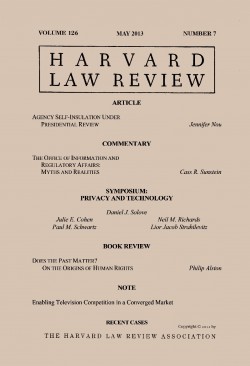 M: PRIVACY AND TECHNOLOGY
"Introduction: Privacy Self-Management and the Consent Dilemma," by Daniel J. Solove
"What Privacy Is For," by Julie E. Cohen
"The Dangers of Surveillance," by Neil M. Richards
"The EU-U.S. Privacy Collision: A Turn to Institutions and Procedures," by Paul M. Schwartz
"Toward a Positive Theory of Privacy Law," by Lior Jacob Strahilevitz
The issue also includes a Book Review essay, "Does the Past Matter? On the Origins of Human Rights," by Philip Alston. A student Note explores "Enabling Television Competition in a Converged Market." In addition, extensive student analyses of Recent Cases discuss such subjects as First Amendment implications of falsely wearing military uniforms, First Amendment implications of public employment job duties, justiciability of claims that Scientologists violated trafficking laws, habeas corpus "custody" for actually innocent sex offenders, and ineffective assistance of counsel claims in capital cases. Finally, the issue includes several summaries of Recent Publications.
The Harvard Law Review is a student-run organization whose primary purpose is to publish a journal of legal scholarship. The Review comes out monthly from November through June and has roughly 2000 pages per volume. The organization is formally independent of the Harvard Law School. Student editors make all editorial and organizational decisions. This issue of the Review is May 2013, the 7th issue of academic year 2012-2013. Principal articles are written by internationally recognized legal scholars, and student-editors contribute substantial research in the form of Recent Case commentaries, a Note, and surveys of recent publications.
Available in leading eBook formats:
Amazon for Kindle.
Barnes & Noble for Nook.
At Apple iBooks and iTunes bookstore. See online preview here.
At Google Play, for Nexus and similar devices and the Play app, and at Google Books (as with all our ebook titles).
And in ePUB format at Smashwords. Look for it, too, at Sony, Diesel, and Kobobooks ebookstores.
…
CATALOGING:
ISBN 978-1-61027-880-5 (eBook)
Page count: 401 pp.
Price: US $3.99