The 7th issue of The Yale Law Journal features new articles and essays on law and legal theory by internationally recognized scholars. Contents include:
• "City Unplanning," by David Schleicher
• "Rethinking the Federal Eminent Domain Power," by William Baude
• "Behavioral Economics and Paternalism," by Cass R. Sunstein
• "The Continuum of Excludability and the Limits of Patents," by Amy Kapczynski & Talha Syed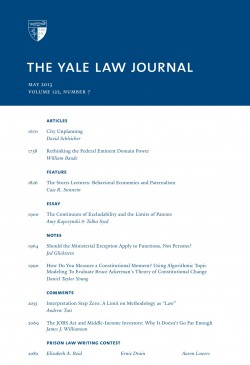 In addition, the issue includes substantial contributions from student editors:
• Note, "Should the Ministerial Exception Apply to Functions, Not Persons?," by Jed Glickstein
• Note, "How Do You Measure a Constitutional Moment? Using Algorithmic Topic Modeling To Evaluate Bruce Ackerman's Theory of Constitutional Change," by Daniel Taylor Young
• Comment, "Interpretation Step Zero: A Limit on Methodology as 'Law,'" by Andrew Tutt
• Comment, "The JOBS Act and Middle-Income Investors: Why It Doesn't Go Far Enough," by James J. Williamson
Finally, the issue features selected results from the "Prison Law Writing Contest," authored by Elizabeth A. Reid, Ernie Drain, and Aaron Lowers
Quality ebook formatting includes fully linked notes and an active Table of Contents (including linked Contents for individual articles and essays), as well as active URLs in notes.  Quid Pro Books is the exclusive ebook publisher of Yale Law Journal. Issues back to Volume 121 are also available as ebooks.
Available in ebook formats at leading sites:
Amazon for Kindle.
Barnes & Noble for Nook.
At Apple iBooks and iTunes bookstore. See it previewed online here.
At Google Play for Nexus and similar devices, and for the Play app; and more generally at Google Books.
And in ePUB format at Smashwords. Look for it, too, at Sony, Diesel, and Kobobooks ebookstores.
…
Cataloging:
ISBN 978-1-61027-882-9 (eBook)
Page count:  441 pp.
Price: US $1.99