The University of Chicago Law Review's new issue features articles and essays from internationally recognized legal and policy scholars. Contents include:
• Article, "Property Lost in Translation," by Abraham Bell & Gideon Parchomovsky
• Article, "Tiers of Scrutiny in Enumerated Powers Jurisprudence," by Aziz Z. Huq
• Article, "State and Federal Models of the Interaction between Statutes and Unwritten Law," by Caleb Nelson
• Article, "Our Electoral Exceptionalism," by Nicholas O. Stephanopoulos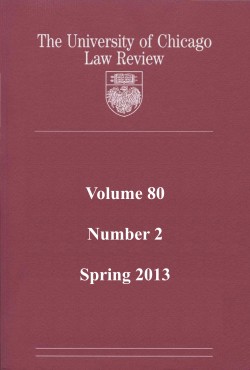 • Essay, "Reverse Advisory Opinions," by Neal Devins & Saikrishna B. Prakash
• Review Essay, "The Inescapability of Constitutional Theory," by Erwin Chemerinsky (reviewing a new book by Judge J. Harvie Wilkinson III)
• Comment, "Amongst the 'Waives': Whether Sovereign Immunity for Contractual Damages Is Waived under the Public Vessels Act or the Suits in Admiralty Act," by Maria A. Lanahan
The University of Chicago Law Review first appeared in 1933, thirty-one years after the Law School offered its first classes. Since then the Law Review has continued to serve as a forum for the expression of ideas of leading professors, judges, and practitioners, as well as student-authors … and as a training ground for University of Chicago Law School students, who serve as its editors and contribute original research. Principal articles and essays are authored by internationally recognized legal scholars.
Quality eBook editions from Quid Pro Books feature active Contents, linked footnotes, and linked URLs in notes. This issue is second for the year: Volume 80, Number 2 – Spr. 2013.
Available in leading eBook formats:
Amazon for Kindle.
Barnes & Noble for Nook.
At Apple iBooks and iTunes bookstore, as previewed online here.
At Google Play for Nexus and similar devices, and at Google Books.
And in ePUB format at Smashwords; look for it, too, at Sony, Kobo, and Diesel e-books.
…
CATALOGING:
ISBN 978-1-61027-883-6 (eBook)
ASIN B00DP7OIIA (Kindle)
Publisher: Quid Pro, LLC
Publication date: 6/27/2013
Page count: 443 pp.
Price: US $0.99
…