This final issue of The Yale Law Journal's Volume 122 features "Symposium: The Gideon Effect: Rights, Justice, and Lawyers Fifty Years After Gideon v. Wainwright." The year 2013 marks the golden anniversary of the U.S. Supreme Court's landmark ruling in Gideon v. Wainwright (1963), which established a constitutional right to counsel for criminal defendants. A half century later, there remains a compelling need to reexamine its legacy, extensions, shortfalls, and long shadow over other areas of law such as immigration and custody disputes. This special Symposium issue is, in effect, a new and extensive book on this important subject, featuring contributions by internationally recognized legal and political scholars. It is one of the most thorough, detailed, and wide-ranging analyses of the current standing and reach of what may be the Supreme Court's most important criminal law decision.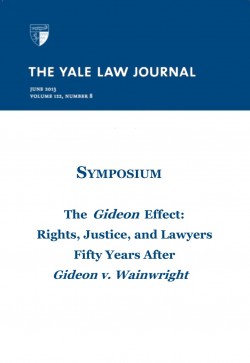 The contributors are: Rebecca Aviel, John H. Blume & Sheri Lynn Johnson, Stephen B. Bright & Sia M. Sanneh, Paul D. Butler, Jeanne Charn, Erwin Chemerinsky, Gabriel J. Chin, Martha F. Davis, Ingrid V. Eagly, Roger A. Fairfax Jr., Bruce A. Green, M. Clara Garcia Hernandez & Carole J. Powell, Emily Hughes, Kevin R. Johnson, Neal Kumar Katyal, Nancy J. King, Nancy Leong, Justin F. Marceau, Hope Metcalf &∓ Judith Resnik, Pamela R. Metzger, David E. Patton, Eve Brensike Primus, L. Song Richardson & Phillip Atiba Goff, Jenny Roberts, and Carol S. Steiker.
Even though the issue is extensive (over 600 pages in print), cutting-edge, and current, and offers in essence a new book on the subject, the editors have determined to price it very low (as low as is allowed on this platform for an eBook of this file size), to encourage maximum distribution and to reach readers worldwide. This eBook should be a staple of the digital libraries of readers with many interests–including public policy, political science, law, policing, management, history, citizenship, journalism, and current events–who care about the state and promise of the U.S. criminal justice system.
The issue, the eighth and final one of academic year 2012-2013, also includes a cumulative Index to Volume 122. As with previous digital editions of Yale Law Journal available from Quid Pro Books, features include active Tables of Contents (including links in each Essay's own table), linked footnotes and URLs, and proper eBook formatting.
Available in leading eBook formats:
At Apple iBooks and iTunes bookstore, as previewed online here.
At Google Play app on Nexus and similar devices. More generally at Google Books here.
And at Smashwords in ePUB format. Look for it, too, at Sony for the Sony Reader, Kobobooks, and Diesel e-books.
…
CATALOGING:
ISBN 978-1-61027-884-3 (eBook)
Publisher: Quid Pro, LLC
Publication date: 6/27/2013
Page count: 612 pp.
Price: US $2.99
∓
∓