The pathbreaking book The Rule of Law in European Integration "remains the definitive analysis of the first crucial decade of the formulation of the Constitution of Europe by at the time a little-known court. It must be read by all serious scholars of European integration."
— Malcolm M. Feeley (University of California at Berkeley), from the new Foreword
In the early days of what would become the European Union, the new entity had a weak and ill-defined legislature and executive. And the European Court of Justice, whose decisions, actions, and even inactions subtly paved the way to a continent's integration. "Scheingold showed that its efforts, deftly melding law and politics, were a success beyond mere dispute-resolution and development of legal doctrine," writes Feeley in the new introduction to this classic study. "He was well aware that he was present at the creation of a powerful new institution. Yet he stood virtually alone in seeing what such an institution, using its power this way, could realize in terms of political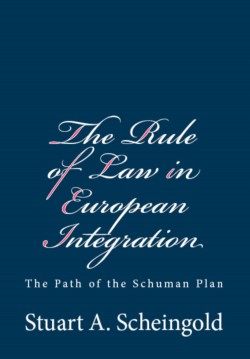 integration. The resulting book was a masterpiece."
The formative years of the EU relied on consensus and legal processes, and an emerging, agile Court—but not on the predictable analogy to federalization as in U.S. Constitutional law—to evolve integration and respect for a higher authority than national law. Scheingold reveals these insights by examining political activity with his in-the-trenches research more than by legal scholars' customary analysis of doctrine.
Presented in a modern digital presentation (and a new, affordable paperback reprinting with updated formatting), adding the new Foreword, this book is part of the Classics of Law & Society Series. It embeds the original pagination, to enhance referencing and citations from previous printings and to allow continuity between the new ebook and print editions. Other quality digital features include linked endnotes, active Table of Contents, all the tables, index, and bibliographical references of the original, and proper ebook formatting.
PAPERBACK AVAILABLE at the Quid Pro eStore page for this book (fulfilled securely and quickly by Amazon), as well as such booksellers as Amazon.com, Barnes & Noble, YBP Library Services, and Ingram catalog.
AVAILABLE in quality eBook formats at leading sites:
At Google Play app on Nexus and similar devices.
And at Apple iBooks and iTunes bookstore.
Also available in ePUB format from Smashwords. Look for it, too, at such ebook sites as Kobobooks and Diesel e-books.
…
Cataloging:
The Rule of Law in European Integration: The Path of the Schuman Plan
ISBN 9781610272018 (pbk.); list price: US $29.99
ISBN 9781610272049 (eBook); list price: $9.99

Page count: 242 pp.

…

About the author:

STUART A. SCHEINGOLD taught generations of political science students at the University of Washington and is internationally recognized as an influential scholar on topics as diverse as street crime, legal rights, political integration, cause lawyering, and the political novel. His landmark book The Politics of Rights is universally considered to be an essential part of the study of law and politics. His 2010 book The Political Novel explored how the nature of modern politics has played out through close readings of fiction. In 2001, the Law & Society Association awarded him the Harry J. Kalven Jr. Prize for distinguished contributions to sociolegal scholarship, observing that "his intellectual legacy is both broad and deep." Three years later, the American Political Science Association presented him with the Law and Courts Lifetime Achievement Award. 
/