This classic and path-breaking study in the sociology of law has won multiple academic awards for its insight, clarity, and broad import in examining the UK's Rent Acts and landlord behavior over a period of time in the 1960s and 1970s. Not just a revelation of the unintended consequences of well-meaning tenant reforms–though it certainly does lay bare the bizarre side-effects of a law presented as protecting tenants from unscrupulous landlords–the book is a deeper penetration into the very notion of reform legislation, class dominance, competing interests, and the counter-use of reformist law as a weapon by those intended to be regulated. The study even questions the very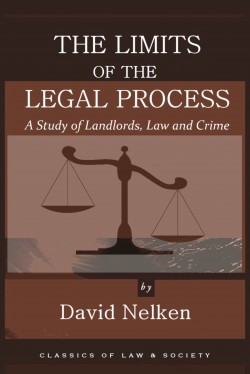 notion of who really was the intended beneficiary or target of some of the housing reforms passed by Parliament to much fanfare and chest-thumping.
Adding a new and reflective 2013 Preface by the author, the Classics of Law & Society edition of this recognized and much-cited book includes (for ebooks) quality digital formatting, active Contents, and linked endnotes—and even a fully-linked subject matter Index which uses the actual pagination of the original print edition, to facilitate continuity and referencing. Links in the Index take the reader to the precise page for that entry. The Quid Pro Books digital edition also includes all figures and tables from the original.
Its re-release is extensively blogged on by Jules Birch at his prodigious housing and social policy blog: "The Limits of the Legal Process is a classic study of the sociology of the law that should be required reading for anyone involved in the current debates about regulating renting (or indeed regulating anything)." See the full May 2014 post entitled Rachman, rogues and renting.
AVAILABLE in new Paperback edition, with modern presentation and the extensive, updated Preface, but embedding original pagination to promote continuity in referencing, citations, and classroom assignment. See it at such stores as Amazon.com, Barnes & Noble, YBP Library Services, and Ingram catalog, as well as our Quid Pro eStore page for the book (fulfilled securely and promptly by an Amazon company). Also available to print and ship directly from the UK and in Europe (for example, ordered at Amazon UK store).
Available, too, in all leading ebook formats:
Amazon for Kindle.   (And Amazon UK for Kindle.)
At Apple iTunes and iBooks bookstores, previewed online here.
At the Google Play app on Nexus and similar devices, and at Google Books generally as well.
And at Smashwords in universal ePUB format, and ePUB also at Kobobooks.
…
CATALOGING:
ISBN 9781610272094 (pbk.)
ISBN 9781610271882 (eBook)