Legal governance of disaster brings both care and punishment to the upending of daily life of place-based disasters. National states use disasters to reorganize how they govern. The collection in Disaster and Sociolegal Studies, edited by Denver University professor Susan Sterett, considers how law is implicated in disaster. The late modern expectation that states are to care for their population makes it particularly important to point out the limits to care—limits that appear less in the grand rhetoric than in the government reports, case-level decisionmaking, administrative rules, and criminalization that make up governing. These insightful essays feature leading scholars whose perspectives range across disasters around the world. Their findings point to reconsidering what states do in disaster, and how law enables and constrains action. The chapters are:
Introduction (Susan Sterett)
1 • Uncertain Governance and Resilient Subjects in the Risk Society (Pat O'Malley)
2 • Land Use Planning and Disaster: A European Perspective from Spain (Juli Ponce)
3 • Law, State and the Politics of Catastrophes: A Critical Perspective on Epiphanies of Injustice and the Need for Protection (Valerio Nitrato Izzo)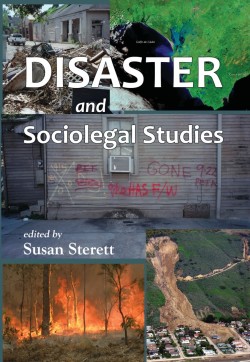 4 • The Comparative Jurisprudence of Wildfire Mitigation: Moral Community, Political Culture, and Policy Learning (Lloyd Burton)
5 • Transboundary Impacts of the 2010 Haiti Earthquake Disaster: Focus on Legal Dilemmas in South Florida (Alka Sapat & Ann-Margaret Esnard)
6 • Disaster Mythology and Availability Cascades (Lisa Grow Sun)
7 • The Role of Law in Engineering "Natural" Disasters (Arthur F. McEvoy)
8 • Multi-level Governance in Environmental Risk Management (Petra Hiller)
9 • Internal Environmental Displacement: A Growing Challenge to the U.S. Welfare State (Michelle A. Meyer)
10 • Long Term Recovery in Disaster Response and the Role of Non-Profits (Victor B. Flatt & Jeffrey J. Stys)
11 • Disasters, Focusing Events, and Sociolegal Studies (Thomas A. Birkland)
The authors analyze sociological and legal issues surrounding disasters and catastrophic events in their many forms: natural, man-made, environmental, human, local, and global. The project was developed as part of the the Oñati Socio-legal Series supported by the Oñati International Institute for the Sociology of Law, and is now presented by Quid Pro Books in the Contemporary Society Series. Digital formats feature quality ebook formatting, active Contents, and linked chapter endnotes and URLs.
HARDCOVER available at such booksellers as Amazon.com, Barnes & Noble, BooksAMillion, YBP Library Services, and Ingram catalog, and uses a library-quality binding and presentation.
PAPERBACK available at such booksellers as Amazon.com, Barnes & Noble, BooksAMillion, YBP, and Ingram, as well as the Quid Pro eStore page for this book (fulfilled securely and quickly by Amazon).
AVAILABLE also in quality eBook formats at leading sites:
At Google Play app on Nexus and similar devices, and generally at Google Books.
And at Apple iBooks and iTunes bookstore, for iPad and iPhone (previewed online here).
Also available in ePUB format from Smashwords.
Look for it, too, at such ebook sites as Kobobooks and Diesel e-books.
…
Cataloging:
Disaster and Sociolegal Studies, ed. Susan Sterett
ISBN 9781610272087 (hbk), list price US $54.99

ISBN 9781610272056 (pbk), list US $36.99
ISBN 9781610272063 (eBook), list US $9.99

Page count: 266 pp.

…

About the editor:

SUSAN M. STERETT is a Professor of Political Science at the University of Denver. She has published on administrative states, constitutionalism, and accountability. Her books include Public Pensions: Gender and Civic Service in the States, 1850-1937 (Cornell University Press, 2003) and Creating Constitutionalism? Accountability and the Administrative State in England and Wales (University of Michigan Press, 1997).