A legal scholar and sociologist, John Flood spent years observing a large law firm from the inside—much like an embedded journalist, but with the perspective of a researcher on the theory and practice of legal organizations. What he found and analyzed resulted in a study that has been cited by many scholars over the years as the ultimate account of the inner workings of a corporate law firm, including its relations with clients, employees, and the broader profession. Further, using four detailed case studies, he showed how the construction of legal information and problems depended heavily on the role and specialization of the lawyer and the power of the client.
Now in its Second Edition, with updated references and account of the radical shifts in legal practice over the past few years in the U.S. and U.K., Flood's pathbreaking book continues to be a fascinating resource for scholars of the legal profession, as well as interested readers who want to see exposed the inner sanctum of private, big-money law practice.
This edition also adds a new, reflective introduction by Lynn Mather, the SUNY Distinguished Service Professor at the University at Buffalo. She writes that, compared to litigators, prosecutors, and public interest attorneys, "far less is known about exactly what business lawyers do." However, "Flood's brilliant ethnography of a corporate law firm helps to fill this gap, providing an in-depth analysis of corporate lawyers at work and addressing significant issues of professional work. Originally done in the late 1980s, this classic study has now been updated and still stands as a singular contribution to the field for its insights into the work of corporate lawyers. … The themes it raises—differences between office lawyers and litigators, ethical decision making in the context of legal work, change in corporate practice in relation to the economy and professional regulation, and the role of law in what lawyers do—remain crucial for understanding the role of lawyers in society."
A classic resource from Quid Pro Books is now readily available worldwide, in print and ebook formats, for scholars, researchers, lawyers, and other interested readers. The new digital edition features proper ebook formatting, active Contents, linked footnotes, all original tables, and active cross-links for references to tables.
Hardback available at leading sites such as Amazon.com, Barnes & Noble online, BooksAMillion, Ingram, YBP Library Services, and other booksellers. Also see it at Amazon UK store here.
Paperback available at leading sites such as Amazon.com, Barnes & Noble, BooksAMillion, Ingram, YBP Library Services, and other booksellers. It may also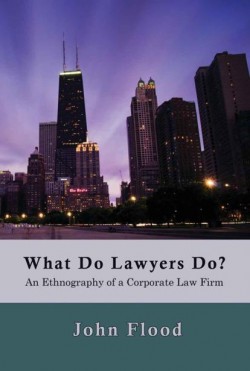 be ordered from Quid Pro Books directly, at our eStore page, fulfilled securely by Amazon. In the UK, see paperback at Amazon UK store. Contact us for bulk sales of the print editions, for classroom adoptions, or for more information about titles in law and society.
Ebook edition available in all leading formats:
Amazon for Kindle.  [Also from Amazon UK here.]
Barnes & Noble for Nook.
Apple iTunes and iBooks (previewed online here).
Google for Google Play. (And more generally at Google Books here.)
And at Smashwords in ePUB format. Also, look for it at at Diesel e-books and at Kobobooks.
…
CATALOGING:
ISBN 9781610272100 (hbk.)
ISBN 9781610271615 (pbk.)
ISBN 9781610271622 (eBook)