Quality ebook and paperback reprint of a classic work in the social sciences, written by one of the leading scholars on the intersection of work and sociology. This is an unabridged republication of this much-cited study first published in 1958 and re-released in 1981. Presented with care, the ebook edition features such proper digital formatting as: active TOC, linked chapter endnotes, fully-linked subject index, and the original tables. The new 2015 paperback features embedded pagination from previous printings, for continuity of referencing and citation. Hughes' recognized study is now part of the Classics of the Social Sciences Series from Quid Pro Books.
In this recognized work of sociology and the study of labor and the professions, Everett C. Hughes detailed his conviction that a person's work is a clue to the course of his or her life, defining one's social being and core identity. He also argued that work influences a person's social outlooks and attitudes, even across class, gender, and racial lines. The thirteen papers collected in this volume, and much cited over the years and today, explore the social and psychological aspects of work rather than the technical and organizational aspects found in other research, and study the professional and near-professional actor, among other labor roles, rather than the more typically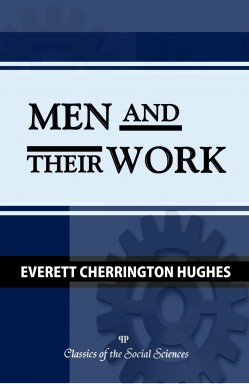 cataloged industrial and bureaucratic occupations. The chapters include the ideas that grew out of Hughes' studies on the organization of work, conceptually, and the nature of the work experience.
Men and Their Work:
ISBN 978-1-61027-886-7 (ebook); list price $8.99
ISBN 978-1-61027-825-6 (paperback); list price $25.99
ISBN 978-1-61027-795-2 (hardcover); list price $34.99
Ebook available at Amazon for Kindle, at Barnes & Noble for Nook, and at Apple iTunes and iBooks.
Paperback available at Amazon, our QP eStore, Barnes & Noble, and other retailers. Also available from YBP Library Services and Ingram catalog.
Hardcover available at Amazon, Barnes & Noble, YBP, etc.
…
About the author:
Everett Cherrington Hughes was an influential sociologist known for his research in ethnic relations, work and occupations, and fieldwork methodology. He taught sociology at McGill, Brandeis, Boston College, and (most famously) the University of Chicago, where he mentored in interactive and qualitative research such sociologists as Becker, Goffman, Strauss, and Friedson. Hughes served as president of the American Sociological Association and was elected to the American Academy of Arts and Sciences.