This issue of The Yale Law Journal (Volume 123, No. 1, Oct. 2013) features new articles and essays on law and legal theory by internationally recognized scholars. Contents include: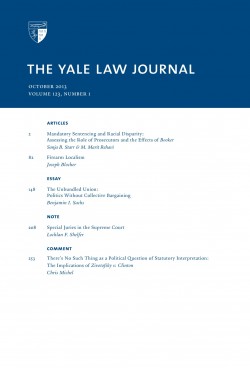 • Article, "Mandatory Sentencing and Racial Disparity: Assessing the Role of Prosecutors and the Effects of Booker," by Sonja B. Starr & M. Marit Rehavi
• Article, "Firearm Localism," by Joseph Blocher
• Essay, "The Unbundled Union: Politics Without Collective Bargaining," by Benjamin I. Sachs
• Note, "Special Juries in the Supreme Court"
• Comment, "There's No Such Thing as a Political Question of Statutory Interpretation: The Implications of Zivotofsky v. Clinton"
Quality eBook formatting includes fully linked footnotes and an active Table of Contents (including linked Contents for individual articles), as well as active URLs in notes and properly presented tables and graphs throughout.
Available in leading eBook formats:
Amazon for Kindle.
Barnes & Noble for Nook.
Google for Google Play and Nexus devices, and more generally at Google Books here.
At Apple iTunes and iBooks, found direct on the iPad and iPhone (previewed at iTunes).
And at Smashwords in ePUB format. Look for it, too, at Sony for the Sony Reader, Kobobooks, and Diesel e-books.
…
Cataloging:
Yale Law Journal: Volume 123, Number 1 – October 2013:
ISBN 978-1-61027-887-4 (eBook)
List price: $1.99
Publication date: November 5, 2013
Page count: 271 pp.
/