The second issue of The Yale Law Journal's Volume 123 features articles on law and legal theory by internationally recognized scholars. Contents include:
• Article, "Leviathan and Interpretive Revolution: The Administrative State, the Judiciary, and the Rise of Legislative History, 1890-1950," by Nicholas R. Parrillo
• Essay, "Reconsidering Citizens United as a Press Clause Case," Michael W. McConnell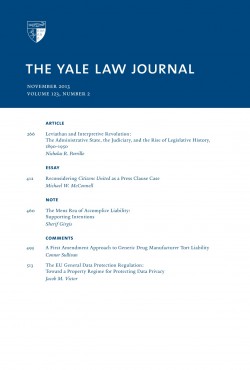 • Note, "The Mens Rea of Accomplice Liability: Supporting Intentions"
• Comment, "A First Amendment Approach to Generic Drug Manufacturer Tort Liability"
• Comment, "The EU General Data Protection Regulation: Toward a Property Regime for Protecting Data Privacy"
As with previous digital editions of The Yale Law Journal available from Quid Pro Books, features include active Tables of Contents (including links in each article's own table), linked footnotes and URLs, all graphs and tables, and proper eBook formatting.
Available in leading eBook formats:
At Apple iBooks and iTunes bookstore.
At Google Play app on Nexus and similar devices.
And at Smashwords in ePUB format. Look for it, too, at Sony for the Sony Reader, Kobobooks, and Diesel e-books.
…
CATALOGING, Yale Law Journal: Volume 123, Number 2 – November 2013:
ISBN 978-1-61027-889-8 (eBook)
Publisher: Quid Pro, LLC
Publication date: 11/15/2013
Page count: 271 pp.
Price: US $0.99