The December 2013 issue of the Harvard Law Review is dedicated to the memory of Ronald Dworkin, with In Memoriam essays offered by Richard Fallon, Jr., Charles Fried, John C.P. Goldberg, Frances Kamm, Frank Michelman, Martha Minow, and Laurence Tribe.
The issue features an article by David Pozen entitled "The Leaky Leviathan: Why the Government Condemns and Condones Unlawful Disclosures of Information." The issue also includes essays by Nicola Lacey and Geoffrey Shaw examining a previously lost writing by H.L.A. Hart on discretion, as well as the publication of Hart's essay, "Discretion," itself, which he wrote while visiting at Harvard during 1956-1957.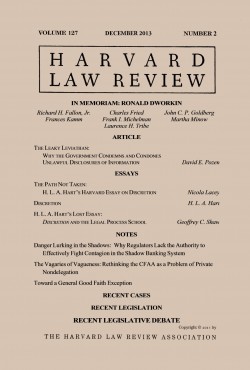 Student Notes explore such subjects as regulation of the shadow banking system, vagueness and delegation in the CFAA, and the good faith exception to the exclusionary rule. In addition, student contributions explore Recent Cases on First Amendment commercial speech doctrine and pharmaceutical marketing, school finance under state law, duty of a school to protect from bullying, warrantless search of cell phone data, and untimely raising of ineffective assistance of counsel in a habeas petition after counsel failure. A Recent Legislation summary explores restrictions on War Powers in the context of Guantanamo detainees, and a summary of Recent Legislative Debate involves the filibuster of a Texas abortion bill. Finally, there are also several summaries of Recent Publications.
The Harvard Law Review is offered in a quality digital edition, featuring active Contents, linked notes, active URLs in notes, and proper ebook formatting. The contents of Volume 127, Number 2 (Dec. 2013) include scholarly articles and essays by leading academic figures. Quid Pro Books is the exclusive ebook publisher of the Review, and many recent issues can be found here.
Available at leading ebook sites:
At Amazon for Kindle.
At Barnes & Noble for Nook.
At Google for Google Play and Nexus devices. More generally at Google Books here.
And at Apple iTunes and iBooks, found direct on the iPad and iPhone (previewed online here).
Also found in ePUB format at Smashwords. Look for it, too, at Sony for the Sony Reader, Kobobooks, and Diesel e-books.
…
Cataloging:
ISBN 978-1-61027-870-6 (eBook)
Page count: 370 pp.
List Price: US $3.99