The third issue of The Yale Law Journal's Volume 123 (Dec. 2013) features articles on law and legal theory by internationally recognized scholars. Contents include:
•  Article, "The Interpretation-Construction Distinction in Patent Law," by Tun-Jen Chiang & Lawrence B. Solum
•  Article, "Agencies as Litigation Gatekeepers," by David Freeman Engstrom
•  Essay,"Tops, Bottoms, and Versatiles: What Straight Views of Penetrative Preferences Could Mean for Sexuality Claims Under Price Waterhouse," by Ian Ayres & Richard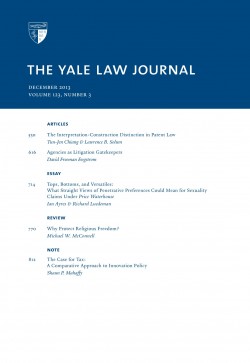 Luedeman
•  Review, "Why Protect Religious Freedom?," by Michael W. McConnell
•  Note, "The Case for Tax: A Comparative Approach to Innovation Policy," by Shaun P. Mahaffy
As with previous digital editions of The Yale Law Journal available from Quid Pro Books (here), features include active Tables of Contents (including links in each article's own table), linked footnotes and URLs, all graphs and tables, and proper eBook formatting.
Available in leading eBook formats:
Amazon for Kindle.
Barnes & Noble for Nook.
At Apple iBooks and iTunes bookstore (direct on iPad and iPhone, or use such apps as Kindle or Play).
At Google Play app on Nexus and similar devices, and more generally at Google Books here (as with all our eBooks and law journals).
And at Smashwords in ePUB format. Look for it, too, at Sony for the Sony Reader, Kobobooks, and Diesel e-books.
…
CATALOGING, Yale Law Journal: Volume 123, Number 3 – December 2013:
ISBN 978-1-61027-871-3 (eBook)
Publisher: Quid Pro, LLC
Publication date: 12/18/2013
Page count: 336 pp.
Price: US $0.99