This work attempts to explain changes in the legal conception of adolescence as a stage of life and as a transition to adulthood. The intended audience includes lawyers and others—such as parents, professionals, and kids—puzzled by trends labeled "children's liberation" and "the revolution in juvenile justice." Much cited and long recognized as an authority, it is considered a classic of law & society.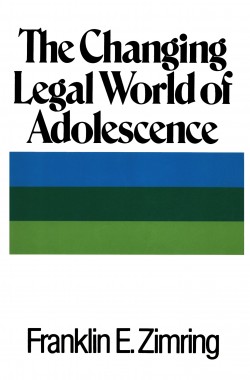 Changes in legal conceptions of youth are interesting in their own right. They are also a useful way of examining important social, political, and economic changes. It is said that legal studies, "properly pursued, lead to a fuller understanding of the larger world of which the law and its institutions are a part." That is no less true when looking at "children" and "juveniles" through a legal lens.
The law often compartmentalizes underage persons with bright lines and legal fictions such as "parens patriae" to allow leeway for them that would not be tolerable for adults. The law creates huge divides based on status and age. The standards against which to judge the exit from adolescence are concrete and measurable: a single chronological age. And an adult is anyone the state legislature says is adult.
But life is not that simple, and the price we pay for sustaining such illusions is considerable. Adolescence is both a period in itself and a transition. This book takes seriously that status and the idea of transition, and attempts to explain the legal responses and concepts relevant to this important stage of life.
The 2014 digital edition includes a new preface by the author and such quality formatting features as active Contents, linked chapter notes, original tables from the print edition, and a fully-linked and paginated Index—for continuity with the print edition, citation and referencing, and the convenience of readers. The new print edition also adds this preface. Part of the Classics of Law & Society Series.
PAPERBACK available at such booksellers as Amazon.com, Barnes & Noble, BooksAMillion, YBP, and Ingram, as well as the Quid Pro eStore page for this book (fulfilled securely and quickly by Amazon).
Also in quality eBook formats at leading sites:
Amazon for Kindle.
Barnes & Noble for Nook.
At Google Play app on Nexus and similar devices, and generally at Google Books (as with all of our titles).
And at Apple iBooks and iTunes bookstore, for iPad and iPhone (previewed online).
Also available in ePUB format from Smashwords. Look for it, too, at such ebook sites as Kobobooks and Diesel e-books.
…
Cataloging:
The Changing Legal World of Adolescence
ISBN 9781610272193 (pbk.), list US $31.99
ISBN 9781610272186 (eBook), list US $8.99

Page count: 178 pp.

…

About the author:

Franklin E. Zimring is the William G. Simon Professor of Law at the University of California, Berkeley. He is the author or coauthor of many books on topics including deterrence, the concept of adolescence, capital punishment, the scale of imprisonment, and drug control. Such books include The Contradictions of American Capital Punishment (voted a Book of the Year by The Economist), American Youth Violence, and A Century of Juvenile Justice.