Debates over U.S. government policy frequently follow a philosophy of devolution in authority from federal government to local government. This concept opens the possibility of greater local involvement in national policy implementation—and provides international treaties an opportunity to advance global policy by incorporating the efforts of local actors into their implementation framework. Much of international policy involves enforcement through international-to-national linkages forming an "implementation chain," but devolution offers the potential to extend the implementation chain by providing national-to-local linkages.
This 2014 book explores the nature of such linkages, taking as a case study the Convention on the International Trade in Endangered Species (CITES) via its domestic analog, the Endangered Species Act (ESA). The analysis employs both quantitative and qualitative methods including interviews, surveys, statistical analysis, and document review. The author concludes that while the framework of CITES enforcement in the U.S. allows for national-to-local extension of the CITES implementation chain, it also presents challenges that should be addressed by international policymakers who consider devolution as a way of assisting global policy.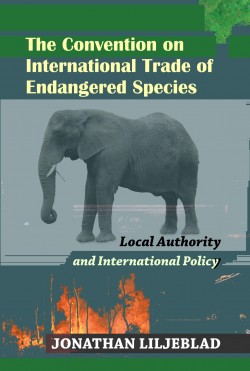 The book includes a Foreword by Scott A. Frisch, a professor of political science (and chair of the department) at California State University, Channel Islands. Frisch notes that "in this book Jonathan Liljeblad offers an enlightening and long-overdue look at the issue of local implementation of international policy…. Liljeblad is able to arrive at insightful conclusions as well as concrete recommendations for policymakers wishing to improve coordination and execution of international policies that rely on local governments for their implementation." He adds, "Liljeblad's recommendations would foster a climate of greater understanding of the connections between international and domestic policy and should be heeded by all levels of government to remove unnecessary roadblocks that can derail implementation."
A new study in the international protection of animal and plant species, presented by Quid Pro Books.
PAPERBACK available at such booksellers as Amazon.com, Barnes & Noble, BooksAMillion, YBP, and Ingram, as well as the Quid Pro eStore page for this book (fulfilled securely and quickly by Amazon).
AVAILABLE also in quality eBook formats at leading sites:
Amazon for Kindle.
Barnes & Noble for Nook.
At Google Play app on Nexus and similar devices, and generally at Google Books (as with all our titles).
And at Apple iBooks and iTunes bookstore, direct on iPad and iPhone (previewed online here).
Also available in universal ePUB format from Smashwords. Look for it, too, at such ebook sites as Kobobooks and Axis360.
…
Cataloging:
The Convention on International Trade of Endangered Species: Local Authority and International Policy
by Jonathan Liljeblad
ISBN 9781610272162 (pbk.), list US $32.99
ISBN 9781610272179 (eBook), list US $9.99

Page count: 410 pp.

…

About the author:

JONATHAN LILJEBLAD studies the connections between local and global phenomena using interdisciplinary methods in law, politics, and sociology. His focus is on the linkages between international legal instruments and local political, economic, social, and cultural contexts. His work uses quantitative and qualitative social science research methods to study the law. He holds a Ph.D. in Political Science and a J.D., both from the University of Southern California. He received his B.S. from the California Institute of Technology. He has taught courses in international law, international environmental policy, and international human rights at the University of California—Los Angeles, the University of Southern California, and Loyola Marymount University. He is currently a postdoctoral fellow at the School of Law of the University of New England in New South Wales, Australia.

Note:

TABLES A6 and A7 of this work are available for free download at this link: Appendices 6 and 7 for download