Their practical and conceptual styles are indeed different, as revealed by the grounded theory study of their ideologies, training, backgrounds, ethics, and professional messages.  So finds Lisa Webley in Adversarialism and Consensus? The Professions' Construction of Solicitor and Family Mediator Identity and Role, a new book in the Dissertation Series.  The Series brings useful and original doctoral research to a global digital community in a quality format, including active notes, tables, a review of the literature, and extensive bibliographies.  Her abstract: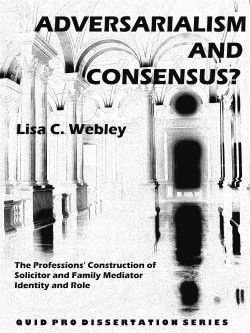 This study considers the messages that the Law Society of England and Wales and the UK College of Family Mediators transmit to their members about the professional approach they should adopt in divorce matters.  The study employs a grounded theory method to analyse the training, accreditation, best practice statements and codes of conduct generated by the two professional bodies.  It examines the extent to which the training, accreditation and codes of conduct of family solicitors and family mediators privilege adversarial or consensus based approaches to divorce for their clients, in the light of statements made around the time of the passage of the Family Law Bill, which suggested a dichotomy in professional approach by these two professional groups.   It considers further the nature of professional identity for each of the professional groupings, as constructed through the messages delivered by the professional bodies.
Dr. Webley earned her PhD at the University of London's Institute of Advanced Legal Studies. She is a Reader at the University of Westminster School of Law and a Research Fellow at the Institute of Advanced Legal Studies.
Available as a Kindle book for Kindle or its free apps. See it at AMAZON for Kindle. [And in the UK, see it on the Amazon UK site, available as a UK download directly.]
Available digitally at SMASHWORDS in multiple formats and PDF, and now at Barnes & Noble for Nook.  Available at Google Play app.  Sold in ePUB format at Kobobooks too; and for the iPad on the Apple iTunes bookstore (previewed in the UK here), or use the quality Kindle app.
ALSO SOLD AS A QUALITY PAPERBACK FROM our e-store site directly, and also from AMAZON. Paperback also sold at Barnes & Noble and other retail outlets.
Please email us for bulk sales in paperback or classroom adoptions.
CLICK ON "DISSERTATION SERIES" TO THE RIGHT TO FIND OUT ABOUT PROPOSING ONE FOR WORLDWIDE PUBLICATION…