The January 2014 issue (Volume 127, Number 3) includes the following articles and student contributions:
• Article, "For-Profit Public Enforcement," by Margaret H. Lemos and Max Minzner
• Book Review, "Technological Determinism and Its Discontents," by Christopher S. Yoo
• Note, "More than a Formality: The Case for Meaningful Substantive Reasonableness Review"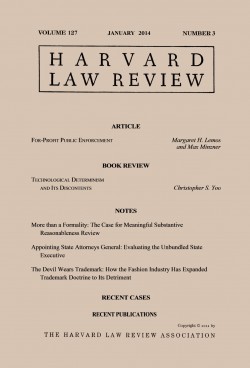 • Note, "Appointing State Attorneys General: Evaluating the Unbundled State Executive"
• Note, "The Devil Wears Trademark: How the Fashion Industry Has Expanded Trademark Doctrine to Its Detriment"
In addition, student case notes explore recent cases on misleading law school employment data, the First Amendment religious rights of for-profit corporations, regulation of nuclear energy, forensic search of laptops at the border, search of cellphone date incident to arrest, obscene or lewd student speech, and access to polling places for news-gathering purposes. Finally, the issue includes several summaries of Recent Publications.
The Harvard Law Review is offered in a quality digital edition, featuring active Contents, linked notes, active URLs in notes, and proper ebook formatting. The contents of Volume 127, Number 3 (Jan. 2014) include scholarly articles and essays by leading academic figures. Quid Pro Books is the exclusive ebook publisher of the Review, and many recent issues can be found here.
Available at all leading ebook sites:
At Google for Google Play and Nexus devices. More generally at Google Books.
And at Apple iTunes and iBooks, found direct on the iPad and iPhone.
Also found in ePUB format at Smashwords. Look for it, too, at Sony for the Sony Reader, Kobobooks, and Diesel e-books.
…
Cataloging:
ISBN 9781610272223 (eBook)
Page count: 229 pp.
List Price: US $3.99