A classic study in law & society is now readily available to scholars, researchers, and others in the field of criminal justice, due process, policing, and administrative procedure. It adds a new Preface by the author and a new Foreword by Berkeley law professor Malcolm M. Feeley. As the author reflects:
"I think it was my first day in the field that the police liaison to the district attorney's probation revocation program exclaimed, 'Forget rights! Forget right to jury! Forget right to bail! There are no rights!' As Malcolm Feeley says in his Foreword, what I 'discovered' over the course of researching and writing this study was in plain view from the beginning. The criminal process has largely been subsumed as an administrative process and the procedural rights enshrined in the Bill of Rights have long since faded away. What I hope my work explains is how this happened doctrinally—how the expansion of criminal due process was halted and redirected by the very administrative due process revolution it gave birth to. And how it happened in practice—how police, prosecutors, and corrections came to realize that they had the tools to bypass the criminal process in enforcing the criminal sanction."
In his new Foreword, Feeley describes the book as "a brilliant analysis of the criminal process" and explains why its relevance and theoretical power have increased over time. In a nation where legal rights and process became enhanced in criminal courts and formal processes of adjudication, Greenspan showed the bypassing of much of this framework by the substitution of parole revocation, probation, and the like—by what Feeley summarizes as "the triumph of the administrative model. Her thesis shows how this occurred. The backlash to the Warren Court's criminal due process revolutions was not a wholesale abandonment of rights, but an embrace of a lower standard of due process, administrative due process." Some of these changes are well known, of course, but "Greenspan's study is brilliant precisely because it problematizes these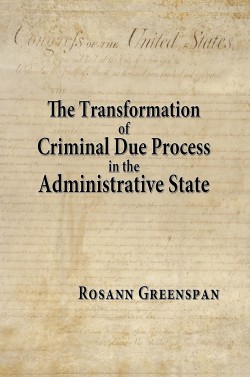 developments. It identifies the central issue, how thinking about the criminal process has been so fundamentally yet unwittingly transformed."
This book is a powerful look at these reforms and transformations, presented in the Classic Dissertation Series by Quid Pro. At last available worldwide and accessible for scholars, criminal justice activists, and the general reader interested in the profound pivot to administrative practice instead of trial by jury.
PAPERBACK available at the Quid Pro eStore page for this book (fulfilled securely and quickly by Amazon), as well as such booksellers as Amazon.com, Barnes & Noble, BooksAMillion.com, YBP Library Services, and the Ingram catalog.
Also in quality eBook formats at leading sites:
At Google Play app for Nexus and similar android devices, and at Google Books.
And at Apple iBooks and iTunes bookstores (directly on iPad and iPhone at iBooks, as previewed online).
Also available in universal ePUB format from Smashwords. Look for it, too, at such ebook sites as Diesel e-books and Kobobooks.
…
Cataloging:
ISBN 9781610272070 (pbk.); list price: US $32.99
ISBN 9781610272230 (eBook); list price: $9.99

ASIN B00I13N6E0 (Kindle)

Page count: 200 pp.

…

About the author:

ROSANN GREENSPAN has served as the Executive Director of the Center for the Study of Law and Society at the University of California, Berkeley, since 2005. She earned a B.A. magna cum laude from Yale College, an M.A. from the Centre of Criminology at the University of Toronto, and an M.A. and Ph.D. from Berkeley's Jurisprudence & Social Policy Program. She was the Postdoctoral Fellow in Law and Politics at Stanford and a U.S. Supreme Court Fellow.