Volume 127, Number 5, features these new articles and review essays:
• Article, "The Puzzling Presumption of Reviewability," Nicholas Bagley
• Book Review, "Making the Modern Family: Interracial Intimacy and the Social Production of Whiteness," Camille Gear Rich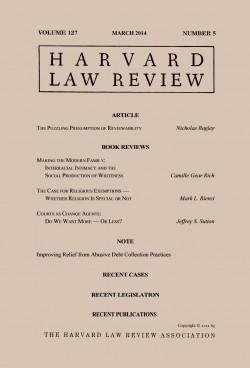 • Book Review, "The Case for Religious Exemptions — Whether Religion Is Special or Not," Mark L. Rienzi
• Book Review, "Courts as Change Agents: Do We Want More — Or Less?," Jeffrey S. Sutton
• Note, "Improving Relief from Abusive Debt Collection Practices"
In addition, student case notes explore Recent Cases on such diverse subjects as standing in increased-risk lawsuits, concealed carry permits, free speech and wedding photography, customary international law, and class action tolling in securities cases, as well as Recent Legislation involving domestic violence and Native American tribal jurisdiction. Finally, the issue includes several summaries of Recent Publications.
The Harvard Law Review is offered in a quality digital edition, featuring active Contents, linked notes, active URLs in notes, and proper ebook formatting. The contents of Number 5 (Mar. 2014) include scholarly essays by leading academic figures, as well as substantial student research. Quid Pro Books is the exclusive ebook publisher of the Review, and many recent issues can be found here.
Available at all leading ebook sites:
Amazon for Kindle.
Barnes & Noble for Nook.
Google for Google Play and Nexus devices. More generally at Google Books here.
And Apple iTunes and iBooks, directly on the iPad and iPhone.
Also found in universal ePUB format at Smashwords. Look for it, too, at Kobobooks and Diesel e-books.
…
Cataloging:
ISBN 9781610278768 (eBook)
Page count: 240 pp.
List Price: US $3.99