The first issue of 2014 features articles and essays from internationally recognized legal and economics scholars, including an extensive Symposium on "Revelation Mechanisms and the Law." Topics include voting options and strategies to reveal preferences, corporate governance, regulatory intensity, tort calculations of risk, audits, mandatory disclosure of choices, partitioning interests in land, and shopping for expert witnesses.
In addition, Issue 1 includes an article, "Libertarian Paternalism, Path Dependence, and Temporary Law," by Tom Ginsburg, Jonathan S. Masur & Richard H. McAdams. Applications include smoking bans and seat belt laws. Also included is a student Comment, "Too Late to Stipulate: Reconciling Rule 68 with Summary Judgments," by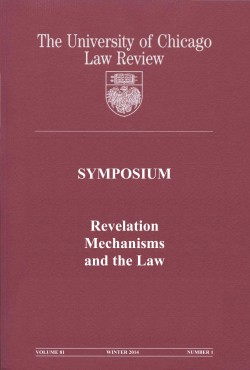 Channing J. Turner, and a Book Review, "Common Good and Common Ground: The Inevitability of Fundamental Disagreement," by Rebecca L. Brown, reviewing 'Ordered Liberty: Rights, Responsibilities, and Virtues.'
The issue serves, in effect, as a new book on cutting-edge issues of revelation mechanisms, strategies, prompts, nudges, and effects. The Symposium's contents are:
* "Governing Communities by Auction," by Abraham Bell & Gideon Parchomovsky
* "Partition and Revelation," by Yun-chien Chang & Lee Anne Fennell
* "Savage Tables and Tort Law: An Alternative to the Precaution Model," by Janet M. Currie & W. Bentley MacLeod
* "Revelation and Suppression of Private Information in Settlement-Bargaining Models," by Andrew F. Daughety & Jennifer F. Reinganum
* "The Use and Limits of Self-Valuation Systems," by Richard A. Epstein
* "Expert Mining and Required Disclosure," by Jonah B. Gelbach
* "Renegotiation Design by Contract," by Richard Holden & Anup Malani
* "Audits as Signals," by Maciej H. Kotowski, David A. Weisbach & Richard J. Zeckhauser
* "Irreconcilable Differences: Judicial Resolution of Business Deadlock," by Claudia M. Landeo & Kathryn E. Spier
* "From Helmets to Savings and Inheritance Taxes: Regulatory Intensity, Information Revelation, and Internalities," by Saul Levmore
* "Quadratic Voting as Efficient Corporate Governance," by Eric A. Posner & E. Glen Weyl
* "The Efficiency of Bargaining under Divided Entitlements," by Ilya Segal & Michael D. Whinston
The University of Chicago Law Review first appeared in 1933, thirty-one years after the Law School offered its first classes. Since then the Law Review has continued to serve as a forum for the expression of ideas of leading professors, judges, and practitioners, as well as students, and as a training ground for University of Chicago Law School students, who serve as its editors and contribute Notes, Comments, and other research. Principal articles and essays are authored by accomplished legal and economics scholars. Quality ebook formatting includes active TOC, linked notes, active URLs in notes, and all the charts, tables, and formulae found in the original print version.
Available at leading ebook sites:
At Google for Google Play app and Nexus devices, as well as Google Books.
At Apple iTunes and iBooks, found direct on the iPad and iPhone.
…
Cataloging:
ISBN 978-1-61027-877-5 (ePUB)