The March 2014 issue of The Yale Law Journal features new articles and essays on law and legal theory by internationally recognized scholars. The contents for Volume 123, Number 5, include:
Articles:
The New Minimal Cities, by Michelle Wilde Anderson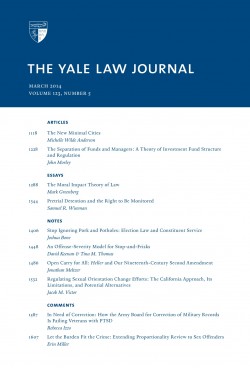 The Separation of Funds and Managers: A Theory of Investment Fund Structure and Regulation, by John Morley
Essays:
The Moral Impact Theory of Law, by Mark Greenberg
Pretrial Detention and the Right to Be Monitored, by Samuel R. Wiseman
Notes:
Stop Ignoring Pork and Potholes: Election Law and Constituent Service, by Joshua Bone
An Offense-Severity Model for Stop-and-Frisks, by David Keenan & Tina M. Thomas
Open Carry for All: Heller and Our Nineteenth-Century Second Amendment, by Jonathan Meltzer
Regulating Sexual Orientation Change Efforts: The California Approach, Its Limitations, and Potential Alternatives, by Jacob M. Victor
Comments:
In Need of Correction: How the Army Board for Correction of Military Records Is Failing Veterans with PTSD, by Rebecca Izzo
Let the Burden Fit the Crime: Extending Proportionality Review to Sex Offenders, by Erin Miller
Quality ebook edition features linked notes, active Contents, active URLs in notes, and full presentation of original tables and images.
Available at leading ebook sites:
At Amazon for Kindle.
At Barnes & Noble for Nook.
At Google for Google Play and Nexus devices, as well as Google Books.
At Apple iTunes and iBooks, found direct on the iPad and iPhone.
And in ePUB format at Smashwords; look for it, too, at Sony, Kobobooks, and Diesel e-books.
…
Cataloging:
ISBN 978-1-61027-875-1 (ePUB)