The New England Law Review now offers its issues in convenient and modern ebook formats for e-reader devices, apps, pads, smartphones, and computers. This first issue of Volume 48, Fall 2013, was published in 2014 and contains articles and presentations from leading figures of the academy, the judiciary, and the legal community.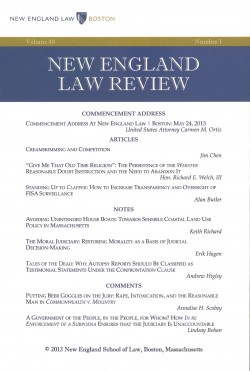 Contents of this issue include:
• Commencement Address at New England Law: Boston, May 24, 2013, by U.S. Attorney Carmen M. Ortiz
Articles:
• Creamskimming and Competition, by Jim Chen
• "Give Me That Old Time Religion": The Persistence of the Webster Reasonable Doubt Instruction and the Need to Abandon It, by Hon. Richard E. Welch, III
• Standing Up to Clapper: How to Increase Transparency and Oversight of FISA Surveillance, by Alan Butler
Notes:
• Avoiding Unintended House Boats: Towards Sensible Coastal Land Use Policy in Massachusetts, by Keith Richard
• The Moral Judiciary: Restoring Morality as a Basis of Judicial Decision-Making, by Erik Hagen
• Tales of the Dead: Why Autopsy Reports Should Be Classified as Testimonial Statements Under the Confrontation Clause, by Andrew Higley
Comments:
• Putting Beer Goggles on the Jury: Rape, Intoxication, and the Reasonable Man in Commonwealth v. Mountry, by Annalise H. Scobey
• A Government of the People, by the People, for Whom? How In re Enforcement of a Subpoena Ensures that the Judiciary Is Unaccountable, by Lindsay Bohan
As with other law reviews published in digital form by Quid Pro Books (see several categories on the right sidebar), quality features include active Contents, linked notes, active URLs in notes, and proper ebook formatting for the convenience of the reader.
Available in quality eBook formats at leading sites:
Amazon for Kindle.
Barnes & Noble for Nook.
At Google Play app on Nexus and similar android devices, and generally at Google Books.
And look for it at Apple iBooks and iTunes bookstore, direct on the iPad and iPhone; and Smashwords in ePUB format; and at Kobobooks for the Kobo Reader.
…
CATALOGING:
Print page count: 260 pages; list price:  $ 0.99
Publication Date: March 18, 2014
ISBN 9781610278607 (eBook)