Jewish statehood was restored in 1948 amid a struggle over legitimacy that has persisted in Israel ever since: Who rules? Who decides? Antagonism between the political left and right erupted into bloody violence over the Altalena. Secular-religious discord even made defining who is a Jew in a Jewish state contentious.
After the Six-Day War, the return of religious Zionist settlers to biblical Judea and Samaria reframed the struggle over legitimacy. Who decides where in the Land of Israel Jews may live: settlers and rabbis or the government? Israel's invasion of Lebanon in 1982 provoked the first significant eruption of militar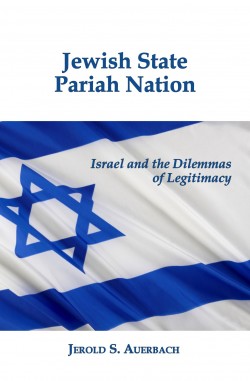 y disobedience, undermining the authority of the Israel Defense Forces with competing claims of personal conscience.
Ever since the United Nations declared Zionism to be "a form of racism," Israel has confronted an escalating international assault on its legitimacy. In political, academic, media, and cultural circles it has been demonized as an "apartheid," even "Nazi," state that much of the world despises.
These conflicts are explored in this illuminating study of the dilemmas of legitimacy in the world's only Jewish state and most reviled pariah nation.
A new addition to the Contemporary Society Series from Quid Pro Books.
Available in print and digital formats:
Paperback: At Amazon.com, our QP eStore, Barnes & Noble, BooksAMillion.com, and other sites. Libraries may also order through YBP Library Services and Ingram catalog.
Hardcover: At Amazon.com, Barnes & Noble, BooksAMillion, YBP Library Services, and Ingram.
eBooks:

Kindle edition, at Amazon.
NOOKBook, at Barnes & Noble.
At Google Play app, and more generally at Google Books here.
At Apple iBooks and iTunes (see it on iPad and iPhone bookstores; and previewed online here).
In universal ePUB format at Smashwords, and look for it at such ebookstores as Kobobooks.
Cataloging:
ISBN 978-1-61027-214-8 (pbk); list price $29.99
ISBN 978-1-61027-213-1 (hardcover); $46.99
ISBN 978-1-61027-215-5 (ebk); $9.99
Find out more about Jerold Auerbach, including his book on the Altalena tragedy, with its extensive book reviews and blogging about it. Also, see the review of this new book, by Ruth King in Mideast Outpost, linked here.