This book has not been easily available in print for many years, but it has long been regarded as an important contribution to the study of child abuse and neglect, and legal and social responses to it.
This classic study of law and social work in action is based on the most extensive investigation of child abuse and neglect ever carried out in Great Britain. The authors followed the course of numerous cases from the first detection of ill-treatment to the resolution (or otherwise) of the problem. Famous for coining the much-used (and often misused or misunderstood) phrase "the rule of optimism," this book is updated with an extensive Postscript from 1995 and a new, 2014 Preface that explains the uneven history of the optimism principle, in both the UK and US — and in both social work practice and sociological scholarship.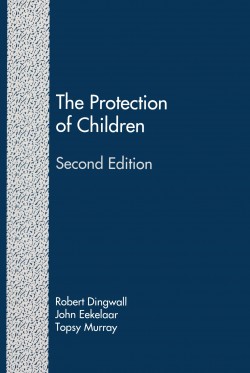 It is entitled The Protection of Children (Second Edition): State Intervention and Family Life, and is authored by Robert Dingwall, John Eekelaar, and Topsy Murray. The authors are experts in sociology, law, and social work in the field, and they bring their unique perspectives and experiences to this recognized and insightful project.
A new paperback edition, also featuring the new introduction, is now available at Amazon.com, the UK Amazon store, our own eStore page for this book, Barnes & Noble, YBP Library Services, Ingram catalog, and other booksellers.
Ebook edition in all leading formats:
Amazon for Kindle.  [Also in country-specific Kindle stores such as Amazon UK.]
Barnes & Noble for Nook.
Google for Google Play, and more generally at Google Books.
Apple iTunes and iBooks (previewed online).
And at Smashwords in ePUB format. Also in ePUB at Kobobooks.
…
CATALOGING:
The Protection of Children, Second Edition, with 2014 Preface
ISBN: 161027220X and EAN/ISBN-13: 9781610272209 (ebk)
ISBN: 1610272366 and EAN/ISBN-13: 9781610272360 (pbk)
Page count: 308 pp.
List price (ebk): US $9.99; UK 5.99 Pounds; Euro 6.99.
List price for new paperback: US 29.99; UK 19.99 Pounds; Euro 23.99.