Author of numerous books on U.S. history, legal history, Native Americans, and Israel, including the acclaimed study of the legal profession Unequal Justice, Wellesley College's Jerold Auerbach has also shared his own personal journey through Israel — and through assimilated America, academia, baseball , and family — where he found himself running headlong into the deep tensions he and others feel about country, culture, identity and religion.  More than finding his roots or dealing with the ambivalence of lapsed family and Jewish colleagues, Auerbach increasingly worried about the commitment of Jews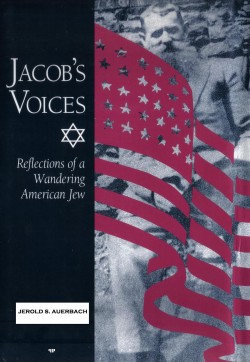 to their heritage, and finally shared his candid story and musings on the dilemma with insight, irony, and intensity.
There is a lot to be universally recognized here — childhood dreams of acceptance into U.S. mainstream culture, disapproval from family, dealing with academic politics and university presidents, and always baseball — but a lot is deeply personal to the author and generously, if sometimes painfully, shared with the fascinated reader.
Originally published in 1996 by Southern Illinois University Press, Jacob's Voices:  Reflections of a Wandering American Jew finds its new home at Quid Pro, in paperback and ebooks:
Its ebook is available in multiple digital formats at Smashwords (including PDF, ePub, and online formats); and at Amazon for Kindle and its apps.  See this book on Apple iTunes or iBooks (previewed here).
Ebook is also available at Barnes & Noble for Nook; at Kobobooks; and at Diesel eBooks. For Amazon UK, look here.
NEW PAPERBACK, too, at our e-store page for print; and on the larger Amazon site; or see it here on Barnes & Noble's website for print edition sales. May also be ordered through YBP Library Services and Ingram catalog.
JEROLD S. AUERBACH is Emeritus Professor of History at Wellesley College, where he has taught courses on modern United States history, freedom of speech, American Jewish history, and the history of Israel. After receiving the B.A. in 1957 from Oberlin College, he attended Columbia Law School, subsequently receiving the M.A. (1959) and the Ph.D. (1965) in history from Columbia.  He taught at Queens College and Brandeis University before joining the Wellesley College faculty in 1971, later serving as the chair of the History department.
Dr. Auerbach is a widely published author. His books include Hebron Jews: Memory and Conflict in the Land of Israel (2009), Explorers in Eden: Pueblo Indians and the Promised Land (2006), Are We One? Jewish Identity in the United States and Israel (2001), Rabbis and Lawyers (1990), Justice Without Law? (1983), and Labor and Liberty (1966).  His 1976 book, Unequal Justice, is considered a landmark text on law, society, and the legal profession in an historical and critical examination.  He has been a Guggenheim Fellow, Senior Fulbright Lecturer in U.S. History at Tel Aviv University, and Visiting Scholar at Harvard Law School.  He is also the recipient of two College Teachers Fellowships from the National Endowment for the Humanities.
Kindle and mobi format:
ISBN-10:  1610270037
ISBN-13:  9781610270038
Multiple formats, including ePub:
ISBN-10:  1610270045
ISBN-13:  9781610270045
The 2010 paperback:
ISBN-10:  1610270150
ISBN-13:  9781610270151