Sociologist Kitty Calavita, long a leader in the law and society movement, dug deep into the INS and other entrenched bureaucracies to uncover the real reasons why a program of temporary farm workers to Southwestern states in the 1940s-1960s, as opposed to complete immigration, failed among scandals and abuse.  The answer says a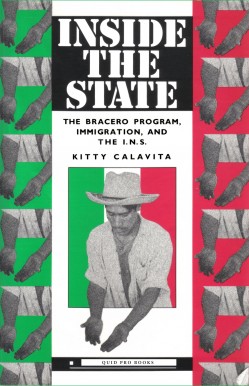 lot about America's ambivalence toward immigration and labor, but also about how government really works, from the inside.  Previous notions of political "capture" and economic motivations simply did not explain the whole story, and so the book takes the reader past usual political theory and public relations materials into the revealed truth about how a program worked and failed, accounting not just for agencies in the abstract, but also their human actors.
First published by Routledge in 1992, this book has substantive and methodological value to students of sociology, law, immigration policy, and the politics of governmental agencies and powerful business interests. Moreover, that value continues today. As Professor Calavita observes in her new Foreword, sincere concerns about immigration and labor persist, as does the notorious dysfunction of the present form of the INS.  The latter reputation cannot just be a one-off phenomenon or a product of the program's era, the sociologist in her concludes: "When the gap between the stated purpose of law and its outcomes persists across time and place, as it does in the case of immigration, we can reasonably infer that something systemic, or structurally patterned, is going on."  The bureaucracy formerly known as INS is not just an accidental tourist to all this, either: "the agency is not simply chronically inept or mismanaged. Instead, it has the misfortune of sitting at the fault line of a structural contradiction between the economic demand for cheap immigrant labor and political demands for border control."  And such immigration/labor tensions persist in other developed countries as well.
With a 2010 Foreword and its linked and active Contents, Footnotes, and Index, this acknowledged classic of law and society is available for classroom adoptions in multiple digital formats, and  in a new paperback edition as well.
Available in new Print and eBook editions:
For its quality print edition in PAPERBACK, see it at Amazon, or direct from our page at the QP eStore. Also available at Barnes & Noble online, BooksAMillion, YBP Library Services, and Ingram catalog. The new edition has been adopted in numerous classes and ordered by many libraries (and college bookstores may buy direct from Quid Pro if they prefer). Also available in leading eBook formats:
Available from AMAZON (for Kindle and its apps and devices), and also from the Amazon UK store here.
Also in the Apple iBooks and iTunes bookstore, for iPad and iPhone.
Available at Google Books here, and for Google Play.
Download from Smashwords (in universal ePUB format). Also in ePUB, this ebook is available from Kobobooks.
And on B&N's site for Nook, and direct from Nook devices and apps at the Nook store.
…
CATALOGING:
ISBN 9780982750483 (pbk.); list price US $22.49
ISBN 9781610270014 (ePUB); list price US $9.99
ASIN B003WQBIN2 (Kindle); list price US $9.99
Kitty Calavita is Chancellor's Professor of Criminology, Law and Society at the University of California, Irvine. She has published widely on immigration both in its social and human consequences and in policy and law. Her early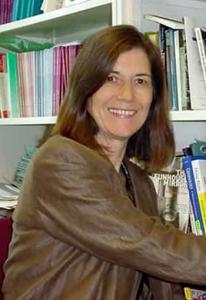 research on immigration connected structural contradictions in the political economy to the details of agency decision making. Her 2005 book, Immigrants at the Margins: Law, Race, and Exclusion in Southern Europe (Cambridge University Press), examines immigrant life in Italy and Spain, and the legal processes that contribute to marginalization by dominant cultures. Her research also explores such issues of race, marginalization, and legal processes within the venue of prisons, as well as the relationship between immigration and white collar crime.
Professor Calavita's most recent book is Invitation to Law & Society: An Introduction to the Study of Real Law (University of Chicago Press, 2010). Interweaving scholarship with personal anecdotes and humor, it is an engaging and accessible guide to the distinctive issues and approaches in the field of law and society. She holds a Ph.D. in Sociology from the University of Delaware, and has been an active leader in the Law and Society Association.
Reviews for Inside the State include:
"Using original materials, this is a masterful, insightful account of the political and bureaucratic politics of one of our most controversial programs — the 'braceros.' Calavita sheds important light on the origins and history of the braceros program, the complicated role of the Immigration and Naturalization Service, the Departments of Justice, Labor, and Agriculture, and their relationship to local political and agricultural interests. She deals with the dilemmas and contradictions between the need for cheap labor and the regulation of immigration. In so doing, Calavita makes important empirical and theoretical advances in understanding the connections between law, regulation, political science, economics, and sociology. This is a major contribution to our understanding of public policy."
— Joel F. Handler
Professor of Law
University of California, Los Angeles