Harvard Law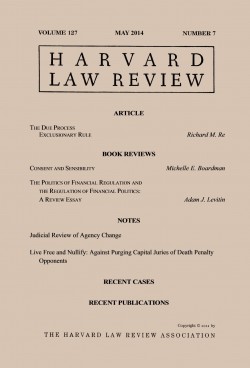 Review, Number 7 (May 2014), includes an article, two book review essays, and extensive student research. Specifically, the issue features:
• Article, "The Due Process Exclusionary Rule," by Richard M. Re
• Book Review, "Consent and Sensibility," by Michelle E. Boardman
• Book Review, "The Politics of Financial Regulation and the Regulation of Financial Politics: A Review Essay," by Adam J. Levitin
• Note, "Judicial Review of Agency Change"
• Note, "Live Free and Nullify: Against Purging Capital Juries of Death Penalty Opponents"
In addition, student case notes explore Recent Cases on such diverse subjects as whether PASPA is an appropriate exercise of congressional power; antitrust immunity for a state dental board; the requirement of "bad faith" in WIPO domain name arbitrations; whether a Guantanamo prisoner was properly detained as "part of" enemy forces; whether a state court may remove a domestic violence convict's federal firearms disability; whether recognition of foreign governments is an exclusive executive power; and warrantless access to cell-site location information. Finally, the issue features two summaries of Recent Publications.
The Harvard Law Review is offered in a quality digital edition, featuring active Contents, linked notes, active URLs in notes, and proper ebook and Bluebook formatting. The contents of Number 7 (May 2014) include scholarly essays by leading academic figures, as well as substantial student research. The Review is a student-run organization whose primary purpose is to publish a journal of legal scholarship. Quid Pro Books is the exclusive ebook publisher of the Review, and many recent issues can be found here.
Available at all leading ebook booksellers:
Amazon for Kindle.
Barnes & Noble for Nook.
Google for Google Play and Nexus devices. More generally at Google Books.
And Apple iTunes and iBooks, directly on the iPad and iPhone. (Previewed online here.)
Also found in universal ePUB format at Smashwords. Look for it, too, at Kobobooks for the Kobo Reader.
…
Cataloging:
ISBN 9781610278690 (ebk)
Page count: 293 pp.
List Price: US $3.99