THE ROOSEVELT COURT is a brilliant analysis of Supreme Court decisions during a crucial decade in the Supreme Court's history, by a political scientist "interested in the social and psychological origins of judicial attitudes and the influence of individual predilections on the development of law." A much-cited classic of the Court and judicial decision-making from the point of view of social science and not just doctrine, this work is at last available in a convenient and well-formatted digital edition, and in new paperback too. The digital presentation includes active Contents, linked notes, and all tables and graphics from the original print editions.
"One of the most informative, judicious, and illuminating of all the books on our judicial history."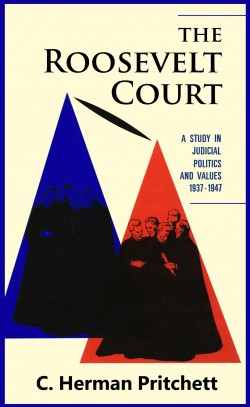 —Henry Steele Commager
"His analysis is continuously interesting to the general student of the Court…. Excellent analysis of the subject matter of Court opinions…. No one has done a better job of catching the true meaning of the Supreme Court's role as an instrumentality of government, or of putting that meaning into striking yet comprehensible language…. No better brief summary of the constitutional law of [this] decade can be found anywhere. Finally, the book Is studded with wise insights into the nature of judicial review and the business of the Supreme Court."
—American Historical Review
"Provocative, well-written, and adventurous."
—The New York Times
"Written in an easy style, free of dogma, and interspersed with a sense of humor, it will solve for many the enigma of seven justices appointed by the same President and presumably endowed with a kindred social outlook attaining unprecedented heights of disagreement."
—Christian Science Monitor
The 2014 representation of this important and still-cited work is an authorized and unabridged republication of all previous printed editions, instructing generations of court-watchers how such research is done and what it means to this important moment in constitutional history. Part of the Classics of Law & Society Series from Quid Pro.
Paperback edition available at such booksellers as Amazon, our QP eStore (fulfilled securely by Amazon), Barnes & Noble, BooksAMillion.com, YBP Library Services, and Ingram.
Ebook edition available in all leading formats:
Amazon for Kindle.
Barnes & Noble for Nook.
Google for Google Play, and more generally at Google Books.
Apple iTunes and iBooks, direct on iPad and iPhone. Preview online here.
And at Smashwords in ePUB format. Also in ePUB at Kobobooks.
…
CATALOGING:
The Roosevelt Court: A Study in Judicial Politics and Values, 1937-1947
C. Herman Pritchett

ISBN 978-1-61027-238-4 (pbk)
ISBN 978-1-61027-237-7 (ebk)
Page count: 274 pp.
List price: US $9.99 (ebooks); $29.99 (paperback)