The May 2014 issue of The Yale Law Journal features new articles and essays on law and legal theory by internationally recognized scholars. Contents include:
* Article, "Illegitimate Borders: Jus Sanguinis Citizenship and the Legal Construction of Family, Race, and Nation," by Kristin Collins
* Article, "Legitimacy and Federal Criminal Enforcement Power," by Lauren M. Ouziel
* Feature, "The Age of Consent," by Philip C. Bobbitt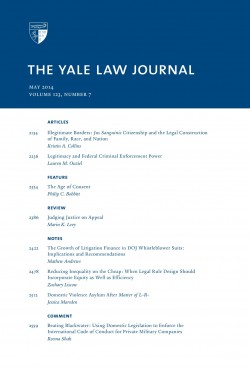 * Review, "Judging Justice on Appeal," by Marin K. Levy
* Note, "The Growth of Litigation Finance in DOJ Whistleblower Suits: Implications and Recommendations," by Mathew Andrews
* Note, "Reducing Inequality on the Cheap: When Legal Rule Design Should Incorporate Equity as Well as Efficiency," by Zachary Liscow
* Note, "Domestic Violence Asylum After Matter of L-R-," by Jessica Marsden
* Comment, "Beating Blackwater: Using Domestic Legislation to Enforce the International Code of Conduct for Private Military Companies," by Reema Shah
Quality ebook edition features linked notes, active Contents, active URLs in notes, and proper Bluebook formatting. This May 2014 issue of YLJ is Volume 123, Number 7.
Available at leading ebook sites:
Amazon for Kindle.
Barnes & Noble for Nook.
Google for Google Play app and Nexus or Android devices, as well as Google Books.
Apple iTunes and iBooks, found direct on the iPad and iPhone.
And in ePUB format at Smashwords; look for it, too, at Kobobooks for the Kobo Reader.
…
Cataloging:
ISBN 978-1-61027-863-8 (ebk)
Page count: 444 pp.; list price: US $0.99