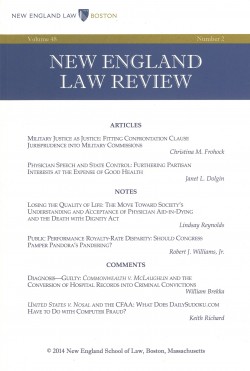 The New England Law Review now offers its issues in convenient and modern ebook formats for e-reader devices, apps, pads, smartphones, and computers. This second issue of Volume 48, Winter 2014, contains articles from leading figures of the academy and the legal community. Contents of this issue include:
Articles:
• Military Justice as Justice: Fitting Confrontation Clause Jurisprudence into Military Commissions, by Christina M. Frohock
• Physician Speech and State Control: Furthering Partisan Interests at the Expense of Good Health, by Janet L. Dolgin
Notes:
• Losing the Quality of Life: The Move Toward Society's Understanding and Acceptance of Physician Aid-in-Dying and the Death with Dignity Act, by Lindsay Reynolds
• Public Performance Royalty-Rate Disparity: Should Congress Pamper Pandora's Pandering?, by Robert J. Williams, Jr.
Comments:
• Diagnosis—Guilty: Commonwealth v. McLaughlin and the Conversion of Hospital Records into Criminal Convictions, by William Brekka
• United States v. Nosal and the CFAA: What Does DailySudoku.com Have to Do with Computer Fraud?, by Keith Richard
As with other law reviews published in digital form by Quid Pro Books (see several categories on the right sidebar), quality features include active tables of contents (even for individual articles), linked notes, active URLs in notes, and proper ebook and Bluebook formatting for the convenience of the reader.
Available in quality eBook formats at leading sites:
Amazon for Kindle.
Barnes & Noble for Nook.
At Google Play app on Nexus and similar android devices, and generally at Google Books.
And at Apple iBooks and iTunes bookstore, direct on the iPad and iPhone (previewed online).
Look for it, too, in ePUB format at Smashwords, and at such sites as Kobobooks, Oyster, and Axis360.
…
CATALOGING:
Print page count: 198 pages; list price:  US $ 0.99; UK .99 Pounds; Euro .99
Publication Date: May 19, 2014
ISBN 9781610278676 (ebk)