Current important events in the U.S. legal profession and legal ethics, with up-to-the-minute research and rules, are explored by Tulane law students from an advanced ethics seminar of spring 2010 and several independent study papers, and by a legal ethics professor in his Foreword.  Purchase of this book benefits Tulane PILF, a nonprofit student group which funds public interest and indigent client representations throughout the country.
Topics include social networking, judicial "friending," and internet advertising; ancillary businesses controlled by lawyers, particularly under the latest LMRDA; the Supreme Court's 2009 decision on judicial campaign finance; and ethics and professionalism in negotiations.
NOW AVAILABLE FOR PURCHASE at eight stores: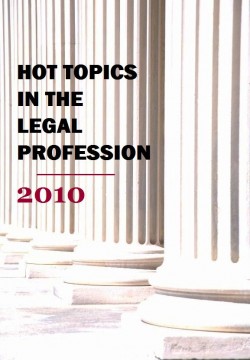 Amazon, for Kindle and its apps on iPad, iPhone, PC, Mac, and BlackBerry.

BARNES & NOBLE, for for the Nook and its apps on multiple devices.
Sony Reader store, for download for Sony-compatible readers. Also now sold at kobobooks for multiple devices and in ePub at Diesel Books.
Smashwords, for multiformats including ePub, Sony, PDF, rtf, and Java.
You can download the Foreword free, and find out more about this project, from a blog post on the leading legal ethics website, The Legal Profession Blog.
AVAILABLE IN PAPERBACK TOO, at Amazon and at CreateSpace.  Also in paper now at Barnes & Noble online here.
And now for Kindle at the Amazon UK store, here with all our titles.