Harvard Law Review, Number 8 (June 2014), includes an extensive Symposium on Freedom of the Press, as well as an article, "The Criminal Court Audience in a Post-Trial World," by Jocelyn Simonson, and a book review essay, "The Positive Foundations of Formalism: False Necessity and American Legal Realism," by Lawrence B. Solum (reviewing Epstein, Landes, and Posner's book on courts and judicial behavior).
Specifically, the Symposium on press freedoms features:
* "Introduction: Reflections on the First Amendment and the Information Economy," by Mark Tushnet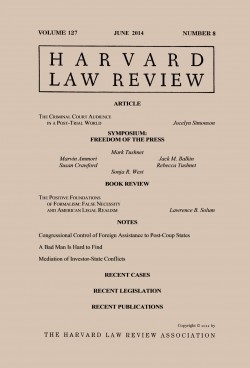 * "The 'New' New York Times: Free Speech Lawyering in the Age of Google and Twitter," by Marvin Ammori
* "Old-School/New-School Speech Regulation," by Jack M. Balkin
* "First Amendment Common Sense," by Susan Crawford
* "More than a Feeling: Emotion and the First Amendment," by Rebecca Tushnet
* "Press Exceptionalism," by Sonja R. West
The issue includes these student contributions:
* Note, "Congressional Control of Foreign Assistance to Post-Coup States"
* Note, "A Bad Man Is Hard to Find"
* Note, "Mediation of Investor-State Conflicts"
In addition, case notes explore Recent Cases on such subjects as the FCC power to create Open Internet rules; whether enforcement of a foreign judgment is state action; and threat convictions in internet free speech cases; as well as Recent Legislation on immigration law and local entity compliance in California. The issue includes several Recent Publications summaries. Finally, as the final issue of volume 127, it contains a comprehensive Index of each article, essay, book review, and student work from the year.
The Harvard Law Review is offered in a quality digital edition, featuring active Contents, linked notes, active URLs in notes, and proper ebook and Bluebook formatting. The contents of Number 8 (June 2014) include scholarly essays by several leading academic figures, as well as substantial student research. The Review is a student-run organization whose primary purpose is to publish a journal of legal scholarship. Quid Pro Books is the exclusive ebook publisher of the Review, and many recent issues can be found here.
Available at all leading ebook booksellers:
Amazon for Kindle.
Barnes & Noble for Nook.
Google for Google Play and Nexus devices. More generally at Google Books.
And Apple iTunes and iBooks, directly on the iPad and iPhone. (Previewed online.)
Also found in universal ePUB format at Smashwords. Look for it, too, at Kobobooks for the Kobo Reader.
…
Cataloging:
ISBN 9781610278645 (ebk)
Page count: 450 pp.
List Price: US $3.99