The Rutgers Computer & Technology Law Journal now offers its issues in convenient and modern ebook formats for e-reader devices, apps, pads, smartphones, and computers. This second issue of Volume 40, 2014, was published in June 2014 and contains articles from leading figures of the academy, technology, and the legal community, as well as contributions from law students at Rutgers-Newark.
This  issue features new articles and student contributions on topics related to: using tech to enhance pro bono work, using tech in the law classroom, BitTorrent copyright trolling, taxation of e-commerce and internet sales, and cyber insurance and tangible property.
The issue also includes the annual, extensive Bibliography — in grouped order with a useful Index — of articles and essays in all the academic journals related to technology, computers, the internet, and the law. Founded in 1969, the Journal is the oldest computer law periodical in the academic world. Since its inception, the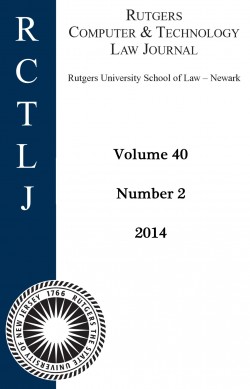 Journal has designed each publication issue to foster critical discourse on the technological breakthroughs impacting the legal landscape.
As with other law reviews published in digital form by Quid Pro Books (see several categories on the right sidebar), quality features include active Contents, linked notes, active URLs, and proper ebook formatting for the convenience of the reader. For example, CompTech retains Bluebook style and all the tables and images from the print edition, as well as links in the Index to the extensive Bibliography (which is also, in ebook form, fully searchable).
Available in quality eBook formats at leading sites:
Amazon for Kindle.
Barnes & Noble for Nook.
At Google Play app on Nexus and similar android devices, and generally at Google Books.
And at Apple iBooks and iTunes bookstore, direct on the iPad and iPhone. Preview here.
…
CATALOGING:
Print page count: 293 pages; list price:  $ 0.99
ISBN 9781610278669 (ePUB)
ASIN B00KZ2VBQA  (Kindle)