Considered a classic of comparative law and legal systems, this book has been twice reprinted since its first appearance 50 years ago, and is now available in a high-quality digital edition. No work has so openly and extensively—using hands-on observations by the leading legal figures of the time—compared appellate courts in two common law countries. While much comparative work contrasts civil law systems with those of the common law, this study teased out substantial, impactful differences even within two traditional common law systems.
The original project grew out of an intensive experiment in comparing the U.S. and English appellate courts, by which highly recognized American and English judges and lawyers met repeatedly to study and report on the appellate courts of each other's countries, with the goal of improving such courts in their own. Distinguished U.S. proceduralist Delmar Karlen of NYU then described in detail the tribunals studied, the observations of the participants, and in areas of judicial administration and policy; then he compared and contrasted appellate procedures in each country, in an extensive conclusion. The work remains invaluable for legal scholars, judicial administrators, and political scientists.
The 2014 ebook edition by Quid Pro Books is an unabridged and carefully proofread republication of the original NYU work (in substance the same as the 1984 and 2004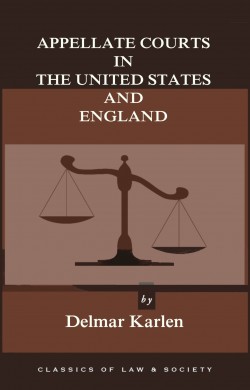 reprint editions by other publishers), adding quality digital features to enhance its present use. These features include active Contents, linked notes, linked cross-references within the book, and even a fully-linked Index that tracks the original pagination of print editions. The 2014 paperback edition—also unabridged and carefully presented—retains the pagination of the original, embedded into text, for continuity of citations and referencing.
Paperback available at Amazon.com, our QP eStore page for the book (fulfilled securely by Amazon), Barnes & Noble, Ingram catalog, YBP Library Services, and many other booksellers.
Hardcover edition, 2016, available at Amazon, Barnes & Noble, Ingram, YBP, etc.
Ebook edition in leading formats:
Google for Google Play, and more generally at Google Books.
And Apple iTunes and iBooks (previewed online here).
…
CATALOGING:
Appellate Courts in the United States and England
Delmar Karlen

ISBN: 9781610272544 (pbk)
ISBN: 9781610277976 (hbk, published June 2, 2016)
ISBN: 9781610272582 (ebook)
Page count: 170 pp.
List price (ebook): US $8.99; UK 5.99 Pounds; Euro 6.99.
List price (pbk): US $29.99; UK 19.49 Pounds; Euro 22.99.
List price (hbk): US $42.99; UK 31.99 Pounds; Euro 37.99.