The second issue of 2014 features articles and essays from recognized scholars. Contents include these articles: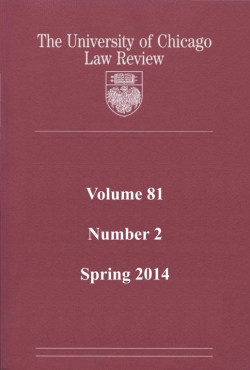 • "Group to Individual (G2i) Inference in Scientific Expert Testimony," David L. Faigman, John Monahan & Christopher Slobogin
• "Game Theory and the Structure of Administrative Law," Yehonatan Givati
• "Habeas and the Roberts Court," Aziz Z. Huq
• "Cost-Benefit Analysis and Agency Independence," Michael A. Livermore
• "Accommodating Every Body," Michael Ashley Stein, Anita Silvers, Bradley A. Areheart & Leslie Pickering Francis
In addition, the issue includes a Review Essay by Sharon R. Krause entitled "The Liberalism of Love," and these student Comments:
• "Toward a Uniform Rule: The Collapse of the Civil-Criminal Divide in Appellate Review of Multitheory General Verdicts," Nathan H. Jack
• "All out of Chewing Gum: A Case for a More Coherent Limitations Period for ERISA Breach-of-Fiduciary-Duty Claims," Raphael Janove
As with other law reviews published in digital form by Quid Pro Books (see several categories on the right sidebar, including many prior issues of UCLR), quality features include active Contents, linked notes, active URLs, and proper ebook formatting for the convenience of the reader. For example, this Journal retains Maroonbook style and all the tables and images from the print edition (and is also, in ebook form, fully searchable).
Available in quality eBook formats at leading sites:
Amazon for Kindle.
Barnes & Noble for Nook.
At Google Play app on Nexus and similar android devices, and generally at Google Books.
At Smashwords in universal ePUB format; and look for it at Kobobooks.
Also at Apple iBooks and iTunes bookstore, direct on the iPad and iPhone (see preview at iTunes).
…
CATALOGING:
Print page count: 440 pages; list price:  $ 0.99
ISBN 9781610278652 (ePUB)
ASIN B00LCQ5D6C (Kindle)