James Landis' hard-to-find but much-cited Report to Sen. John Kennedy's committee on administrative regulation and commissions is now readily and affordably available as an ebook or new paperback. Sold out or "unavailable" with major booksellers despite its frequent use in academic literature, the Report finds its new home in the Legal Legends Series.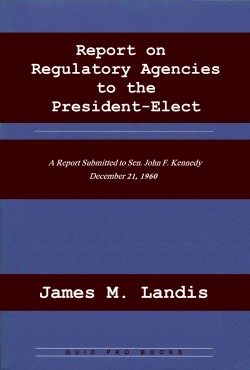 In 1960, James M. Landis drafted the Report on Regulatory Agencies to the President-Elect and submitted it to President-elect (Sen.) John F. Kennedy, reexamining the federal regulatory commissions and administrative agencies' structures and powers. He recommended such reforms as strengthening the commissions' chairpersons and streamlining the agencies' procedures. The Kennedy Administration subsequently adopted many of the recommendations.
This historic and insightful monograph is now available as a quality ebook, featuring active Contents and accurate reproduction of the original report. It also has a new paperback reprint edition.
James McCauley Landis (1899–1964) was a lawyer, law professor, government official, and legal advisor. More specifically, he was a professor of law and Dean at Harvard Law School and served in various government positions as part of the New Deal, as well as in the Truman Administration. He also served as Special Counsel to President John F. Kennedy.
Available in paperback: At Amazon.com, our QP eStore (fulfilled securely by Amazon), Barnes & Noble, BooksAMillion, Ingram, and YBP Library Services, in addition to other booksellers.
Available in these digital formats:
Kindle edition, at Amazon.
NOOKBook, at Barnes & Noble.
And at Apple iBooks and iTunes (find it on iPad and iPhone bookstores; previewed online here).
…
Cataloging:
Report on Regulatory Agencies to the President-Elect, by James M. Landis
ISBN 978-1-61027-248-3 (ebk); list price $1.99
ISBN 978-1-61027-249-0 (pbk); list price $18.99
Page count: 110 pp.